Michael Matheson MSP, Scottish Cabinet Secretary for Net Zero, Energy and Transport, visits Bathgate facility.
Monday 7 March 2022
Invinity Energy Systems was delighted to welcome Michael Matheson MSP, the Cabinet Secretary for Net Zero, Energy and Transport in Scotland, to the Company's manufacturing facility in Bathgate, West Lothian last week. Mr. Matheson was given a guided tour of the facility and took time to meet with Invinity staff. The visit included an opportunity to inspect Vanadium Flow Batteries (VFBs) being readied for shipping to Orkney as part of an innovative Scottish-government-backed project that combines flow batteries with tidal power to produce green hydrogen at the European Marine Energy Centre (EMEC). During the visit Mr. Matheson commended Invinity's leadership in the flow battery technology space and noted the growing need for batteries to support global progress towards Net Zero.
The Company's Bathgate facility plays a crucial role in assembling the battery systems which are designed to unlock low-cost, low-carbon, renewable energy on-demand for Invinity's customers around the world. Invinity's Scottish operations have expanded rapidly in the past year and now employs a staff of more than 60 in the West Lothian area, taking advantage of the high quality pool of labour present in the region. The Company's staff includes many former oil and gas sector workers applying their skills to develop Invinity's clean energy technology, supporting a burgeoning renewable energy economy in Scotland.
"For Scotland to become net zero by 2045, decarbonising our energy supply and growing our renewables sector will be vital. Battery storage will play a really important part in this transition.

"Invinity is an excellent example of a company that is at the forefront of developing flow battery technology and positioning Scotland as a leader in renewables technologies. It was a pleasure to meet the team and hear about their investment in the West Lothian facility and the green jobs they have created.

"This is the type of facility we want to see more of in Scotland. It is clear that there are exciting opportunities going forward to use and deploy this technology here in Scotland and the UK, as well as right across the world."
– Scotland's Net Zero and Energy Secretary, Michael Matheson MSP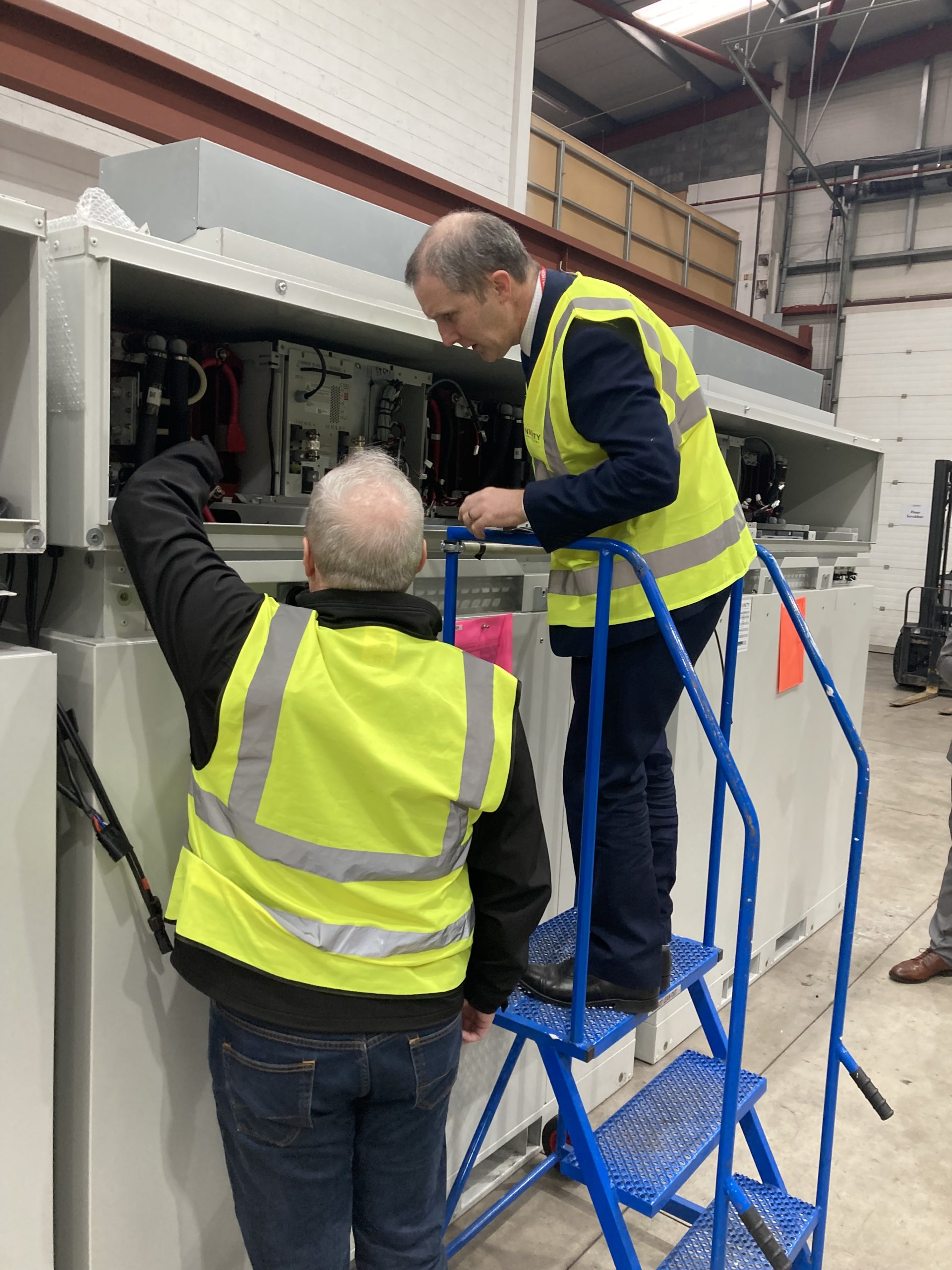 Above: Michael Matheson MSP being shown the inside of an Invinity VS3 module at Bathgate
Despite having one of the greenest grids in the world, Scotland's energy grid is also one of the most constrained with over 3.6 terawatt-hours of clean energy (just over 1% of total UK demand) produced but unused in 2020. Invinity's batteries can play a key role to reduce such constraints by storing excess renewable generation when the sun is shining and the wind is blowing and delivering that energy back to the grid on demand. This view is supported by a recent independent report by Aurora Energy Research that outlines the ability of Long Duration Energy Storage, including VFBs, to achieve Net Zero faster and at lower cost than grid upgrade alternatives.
In recent news for Invinity, Scottish Water have now launched their first-of-a-kind solar + battery storage project involving four Invinity VS3 Vanadium Flow Battery modules, expected to deliver 160 tonnes of carbon savings each year. Invinity also recently announced that it had won funding for the first phase of a 40 MWh Solar + Storage project in the UK as part of the BEIS Longer Duration Energy Storage (LODES) Demonstration competition. Further afield, the Company also announced in early February that it had signed a contract to deliver their largest ever North American storage project to date, involving an 8.4 MWh VFB system installed alongside with a 21 MWp solar array in Alberta, Canada.
"The energy infrastructure in developed nations has a legacy of reliability based on the abundance of carbon-based fuels. Maintaining that legacy while increasing the use of renewable sources means adding energy storage to fill in the inevitable missing hours.

"Our highly-skilled team in Bathgate has UK-wide responsibility for final assembly and responsibility world-wide for configuration and delivery of Invinity's advanced vanadium flow batteries. Our Scottish team's broad remit is a testament to their abilities and commitment.

"We're proud to support the West Lothian economy while accelerating the global drive toward net zero with large-scale long-duration batteries that combine safety, long-life, and exceptional performance."
– Larry Zulch, Chief Executive Officer, Invinity Energy Systems