Utility-scale solar + storage project is a Canadian first
Updated 6 April 2023 (Originally published 3 February 2022)
Elemental Energy and Invinity Energy Systems have announced one of Canada's most innovative and ambitious renewable energy projects, in which approximately 40,000 solar panels are installed alongside a 8.4 MWh Vanadium Flow Battery (VFB) at a site in Alberta, Canada.
Located in one of the sunniest places in Canada and in a province historically known as one of the world's major centres for oil production, a 21 MWp solar array is colocated with Invinity's utility-scale VFB technology to generate enough low-cost, low-carbon electricity to serve the electricity needs of over 7,000 Albertans.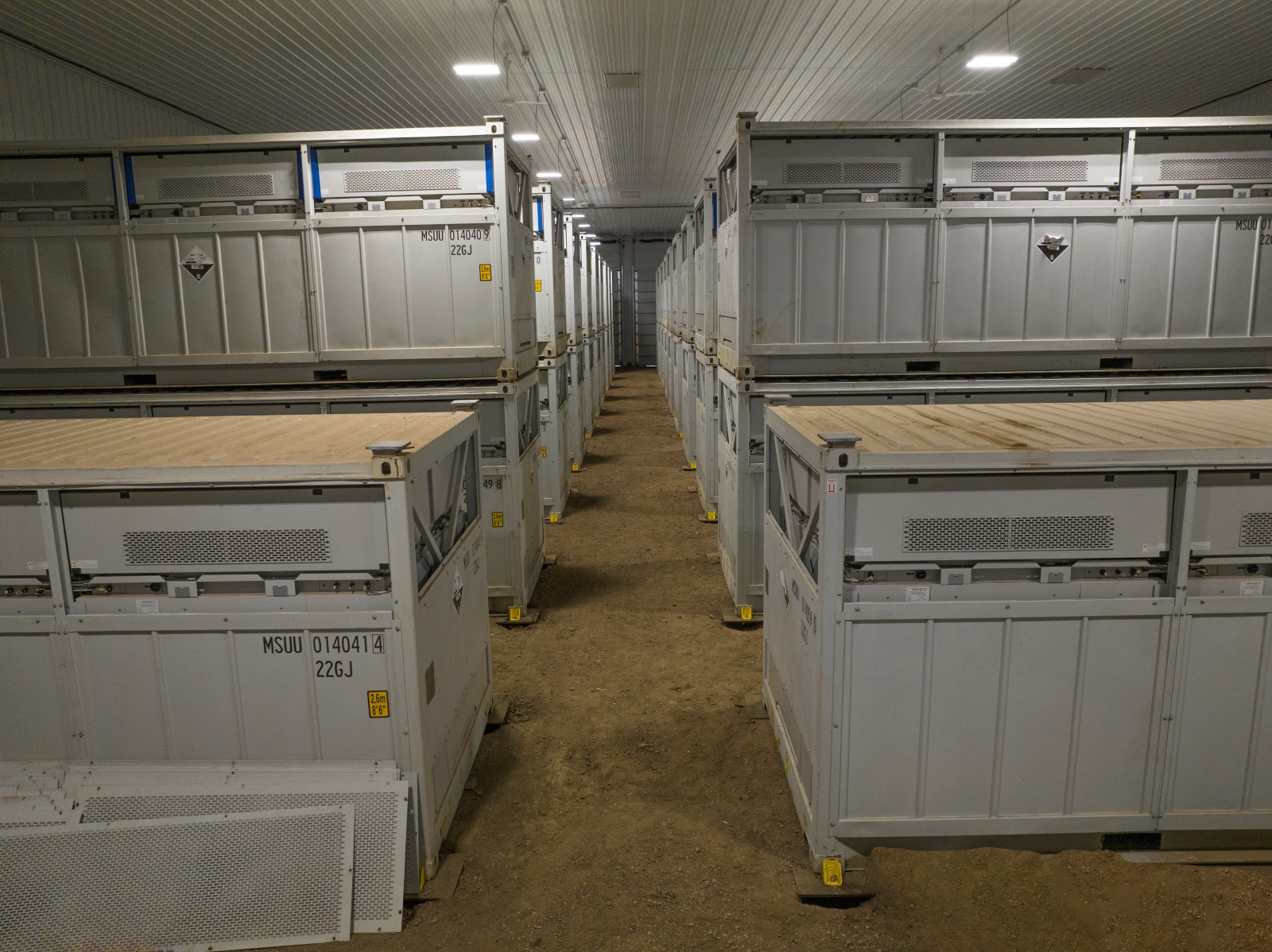 Above: The full array is shown with 38 VS3-022 flow batteries – April 2023
In a Canadian first, the solar array will be coupled directly with the VFB, improving plant efficiency, operating flexibility and costs. Compared with more common lithium-ion batteries, Invinity's VFBs are a safer form of longer-duration, utility-grade energy storage, offering excellent operational longevity in ultra heavy duty use while being fully recyclable at end of life.
Developed and manufactured by Vancouver-based Invinity, the VFB will charge from the solar array to provide clean power to the local grid at any time of the day or night. This ability to deliver power on demand will help accelerate reduction in carbon emissions and alleviate constraints within Alberta's electric grid, eliminating bottlenecks to power flow that can be a barrier to installing additional renewable energy generation across the province.
"I'm thrilled to be working alongside such great partners to deliver this groundbreaking project. But its importance goes beyond just batteries and solar. Alberta has a long history of leadership in energy, the fact that this shovel-ready project will expand that leadership in new directions while creating great new jobs is a testament to how Alberta can innovate and build.

Clean energy on demand is becoming an increasingly invaluable commodity; in delivering solar and storage together at Chappice Lake, we will prove that solar generation plus Invinity's utility-grade vanadium flow batteries can make Alberta a powerhouse for the North American grid."
– Matt Harper, Chief Commercial Officer at Invinity Energy Systems
In support of Alberta's decarbonisation efforts, the project is expected to become operational in early 2023 and will directly result in the reduction of approximately 20,000 tCO2e/year, or the equivalent of taking 4,300 passenger vehicles off the road. It's also expected that the further commercialisation of this close combination of renewable generation and storage paving the way for significant increases in both wind and solar penetration across the province, delivering a potential 90,000 tCO2e/year of further GHG reductions across the province by 2030. The project has received funding support from Emissions Reduction Alberta (ERA), as part of ERA's Shovel Ready Challenge, as announced by ERA and the Alberta Government on 1st November 2021.
The project, located near Medicine Hat in Cypress County, will be owned and operated by Elemental Energy, a Vancouver-based private renewable energy development company with over 100 MW of wind, solar and hydro projects in construction or operation and approximately 1000 MW of further projects under development.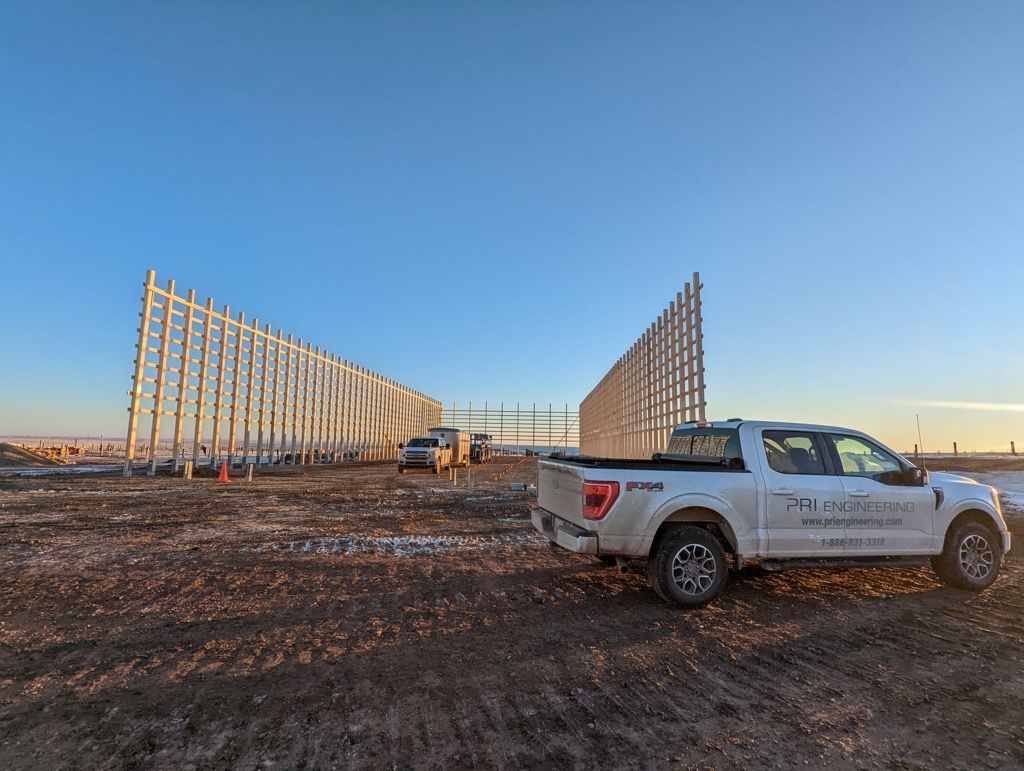 Above: Site works underway in Q4 2022 (credit PRI Engineering)
Elemental Energy is also partnered with Cold Lake First Nations (CLFN), who hold an equity interest in the Chappice Lake project. CLFN will also benefit from capacity building and employment opportunities in a new sector of strategic interest for the community. The Project will enable CLFN to meaningfully invest and participate in the province's transition to clean energy economy while maintaining employment and economic opportunities within the local work-force and wider provincial economy.
"We are pleased to be starting 2022 announcing our largest North American sale to date, reflecting Invinity's transition to a new business phase now that we are delivering standardized energy storage products into commercially-viable projects. Working with the team at Elemental sets a high bar for future commercial relationships. We are grateful for the support of Emissions Reduction Alberta and for the Cold Lake First Nation's participation in demonstrating how delivering power on demand from an abundant solar resource can expand Alberta's legacy of leadership in energy."
– Larry Zulch, Chief Executive Officer, Invinity Energy Systems