Scottish Water has completed work on its first large-scale battery storage project to accelerate its drive towards net zero emissions by 2040.
Wednesday 9 February 2022
The flagship scheme, delivered by framework contractor Absolute Solar & Wind Ltd, is part of a £2 million renewables project which includes the company's largest single solar energy array to date.
Four vanadium flow batteries, manufactured by Invinity Energy Systems, capable of storing up to 0.8 megawatt hours (MWh) of energy will be used to store energy generated from more than 2,520 solar panels, with a combined output of over 1 megawatt (MW), which have recently been installed at the waste water treatment works that serves the city of Perth.
By enabling solar energy to be used at any time of the day or night, the battery system will allow around 94% of the renewable power generated to be used on site – a significant step forward in the company's decarbonisation ambitions.
By combining battery storage and solar power, the carbon footprint of the treatment works will be cut by around 160 tonnes of CO2 per annum – the equivalent of offsetting 580,000 miles from the average passenger car. The scheme will also help to power the utility's first rapid electric vehicle charging points which have been installed at the site; and will reduce energy costs of the treatment works by approximately 40%.
This installation is the latest investment by Scottish Water Horizons, the public utility's commercial subsidiary, who are developing a programme of opportunities for battery storage across Scottish Water's asset portfolio.
"We're excited to have our first battery facility up and running to help reduce emissions and tackle climate change. The ability to maximise green energy production as well as store and release this energy when we need it is a vital part of our journey to net zero.

"By harnessing this technology, we now have a much wider opportunity to install renewables schemes that were previously unviable due to grid constraints. It's a massive step forward for us and will form an integral part of how we cut our emissions in the coming years.

"It's fantastic news for the customers in Perth as they can now benefit from a treatment service with a significantly lower carbon footprint, helping them with their ambition to become the most sustainable small city in Europe."
– Donald MacBrayne, Business Development Manager, Scottish Water Horizons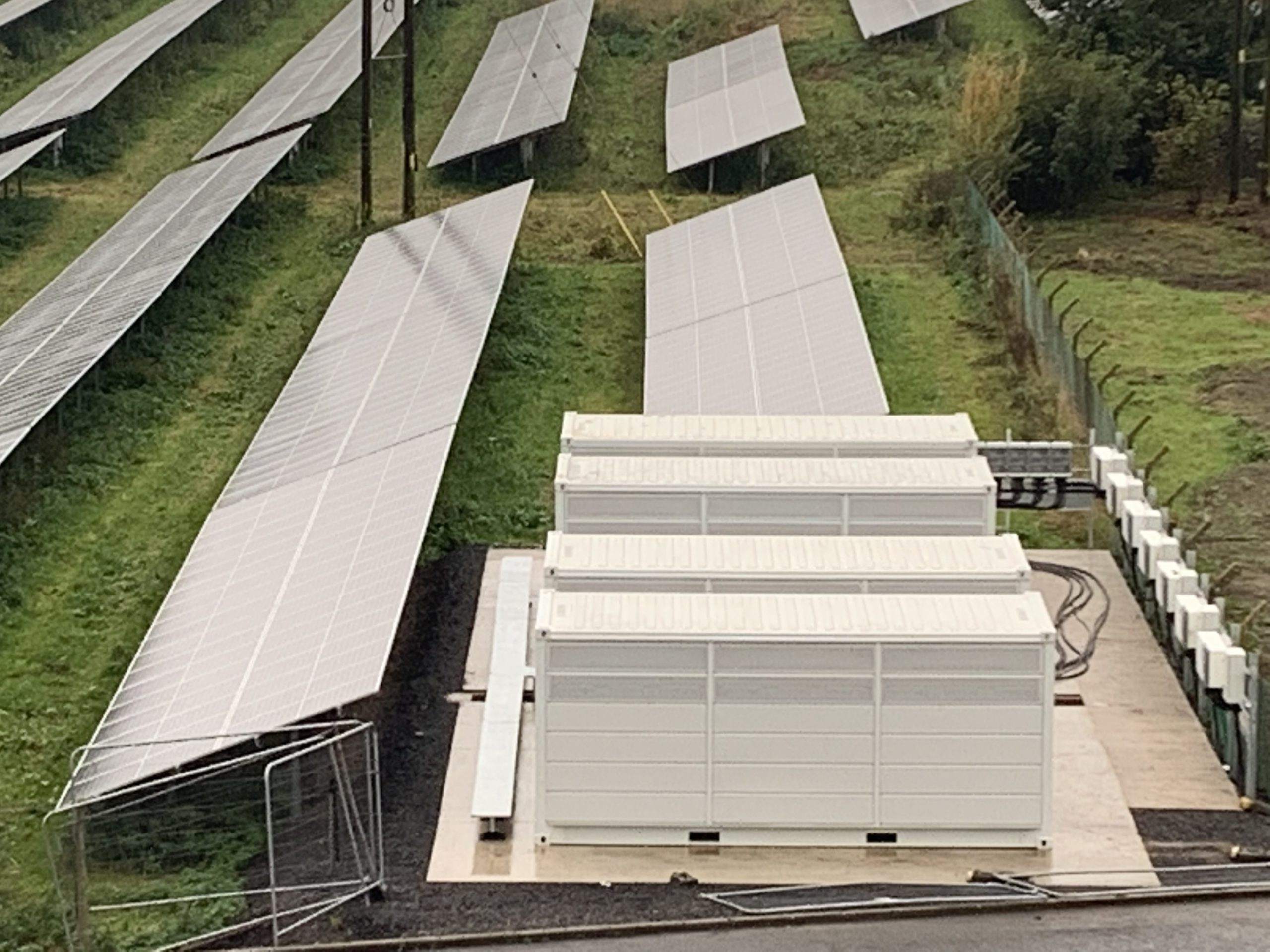 Above: Four VS3 batteries installed alongside 1 MWp solar PV array, Perthshire, Scotland
The utility-grade vanadium flow batteries were assembled by Invinity Energy Systems at their manufacturing and assembly facility in West Lothian. Invinity's patented vanadium flow battery technology is already making its mark in the energy storage market world-wide as a safer, more durable and sustainable alternative to traditional lithium-ion batteries.
"We are very proud to be supporting the decarbonisation of essential public infrastructure in the UK. Utility-grade energy storage, such as our vanadium flow batteries, has a key role to play in unlocking the low-cost, low-carbon energy we require to reach net zero, while helping to shield companies from rising commercial energy prices."
– Matt Harper, Chief Commercial Officer, Invinity Energy Systems
A key component to the success of the battery and solar hybrid scheme is the intelligent battery software and control system that coordinates the production, storage and release of the energy generated.  The digital optimisation platform, Dynamic Demand 2.0, supplied and installed by Open Energi, provides a steady supply of energy during periods of low renewable generation whilst keeping energy costs down.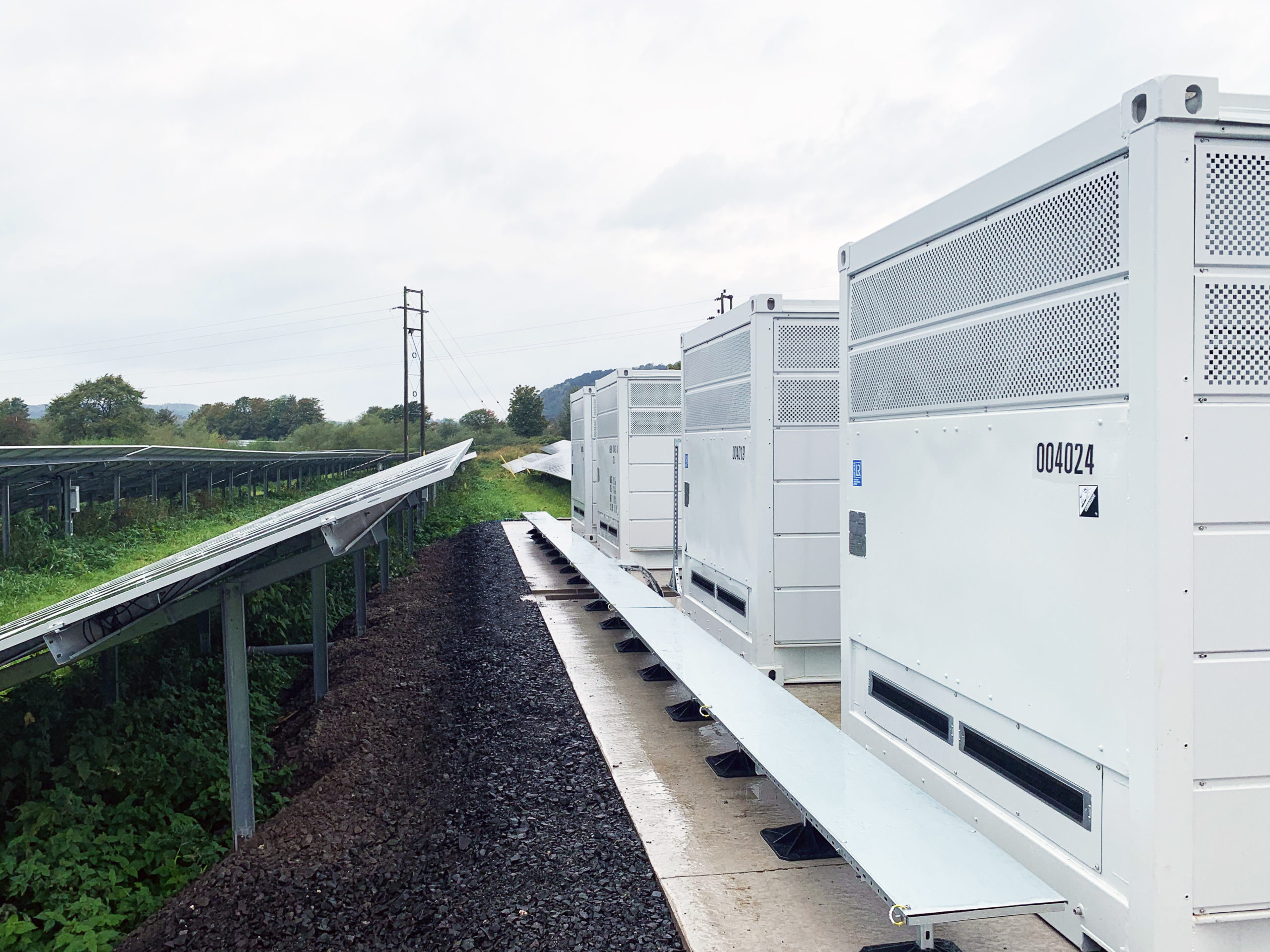 Above: Invinity VS3 batteries alongside solar PV array, Perthshire, Scotland
"Open Energi are thrilled to be part of such a pioneering project. The use of vanadium flow storage enables Scottish Water to soak up a greater proportion of their on-site solar generation when compared to conventional lithium-ion storage. Our micro-grid optimisation tool, which uses highly localised solar, demand and wholesale energy price forecasting capabilities, ensures not a single drop of sun's energy is wasted. When you look at the recent surge in power prices, driven by high gas prices, we see this type of 'Energy as a Service' proposition, which bundles zero carbon technology into a simple value proposition, becoming the norm for all energy consumers."
– David Hill, Chief Commercial Officer, Open Energi
The battery project in Perth joins a long list of renewables schemes already installed at many treatment works and other Scottish Water assets across Scotland.  
Renewable energy experts Absolute Solar and Wind delivered the onsite solar scheme earlier this year whilst adhering to ongoing Covid guidance.
Scottish Water has committed to reach net zero carbon emissions by 2040 with an interim target to host or self-generate three times its annual electricity consumption by 2030.  Almost 80 of the company's water and waste water treatment works are now either self-sufficient or partly sufficient in their power requirements.