Chappice Lake Solar + Storage
Invinity has delivered an 8.4 MWh vanadium flow battery (VFB), the largest of its type in Canada, for a solar + storage plant developed by Elemental Energy in Alberta.
Find out more in the case study below.
Decarbonising Alberta with Canada's first utility-scale solar-powered VFB
In a province historically known as one of the world's major centres for oil production, a 21 MWp solar array has been collocated with Invinity's utility-scale vanadium flow battery to generate enough dispatchable, low-cost, low-carbon electricity to serve the electricity needs of over 7,000 Albertans. Developed by Vancouver-based private renewable energy development company, Elemental Energy and part owned by Cold Lake First Nations (CLFN), Canada's first solar-powered VFB is accelerating the country's progress towards net zero.
As a major developer of renewable projects, Elemental Energy were looking for a way to turn a standard solar PV array into a 24/7 generation asset that would not only ensure clean energy could be dispatched at any time, day or night, but could have the potential to participate in Canada's Operating Reserve market. Taking their first steps into deploying a collocated energy storage system Elemental approached Invinity to supply the 8.4 MWh of proven, safe and reliable longer duration vanadium flow batteries required to make this innovative project a reality.
Provide enough power generated to meet the needs of up to
The expected annual carbon savings of the entire plant is approximately
The battery will be used primarily for Solar shifting, which means the battery will store excess solar generation during the daytime when prevailing market prices are low and discharge into the evening price peak and at other times when demand is high (as demonstrated in the chart below).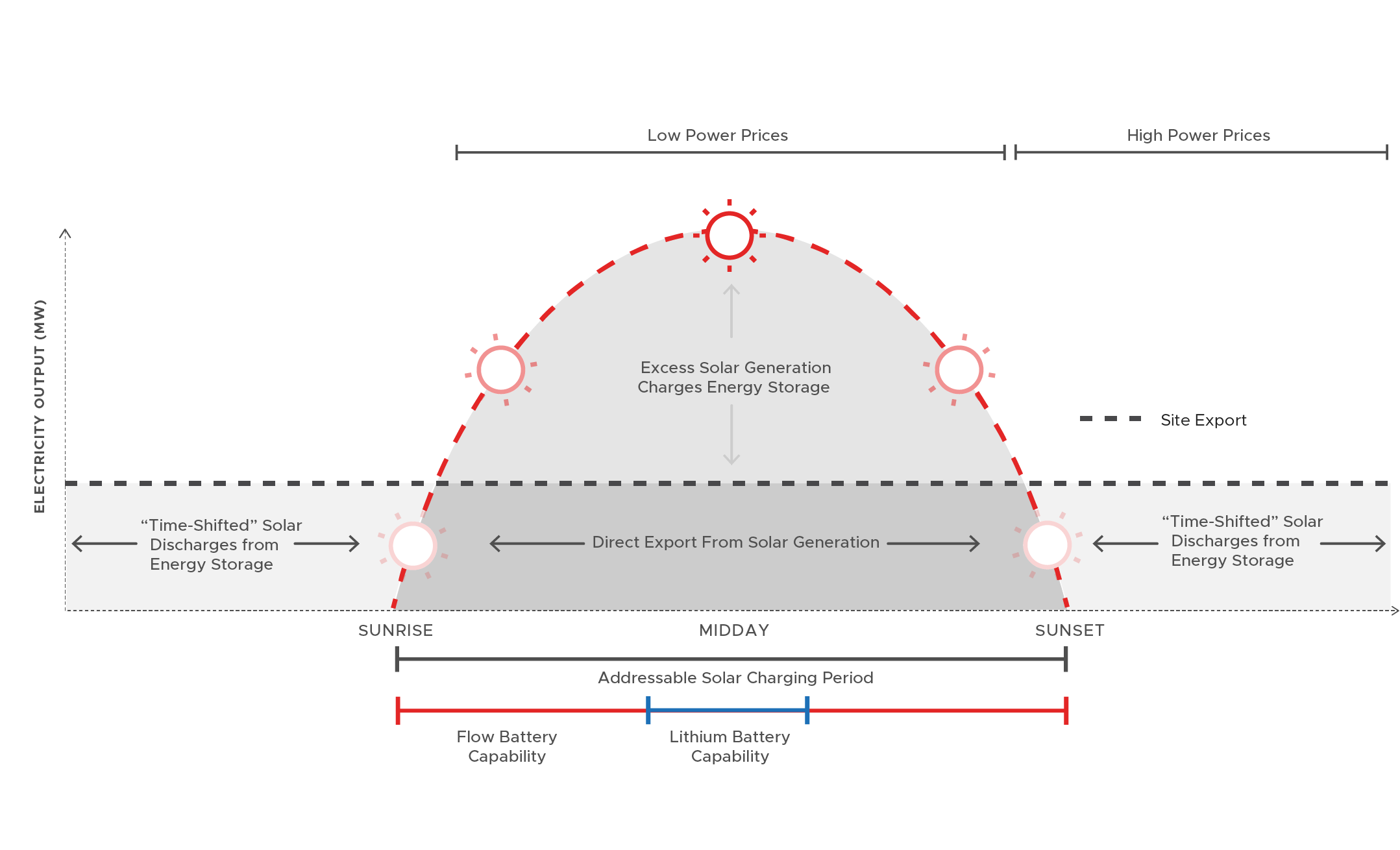 Supported by Emissions Reduction Alberta, construction of both the solar PV array and the double stacked VFB was completed in Spring 2023. Due to Alberta's very cold winters, the batteries were installed inside a simple shed, without the need for HVAC or other fire suppression systems, given the lack of fire risk associated with Invinity's VFBs.
Furthermore, as part owners, CLFN will also benefit from the revenues generated by project and the associated employment opportunities in a new sector of strategic interest for the community. The project will enable CLFN to meaningfully invest and participate in the province's transition to clean energy economy while maintaining employment and economic opportunities within the local workforce and wider provincial economy.
Canada has been making continued strides towards developing a more sustainable economy and to increasing the amount of renewable energy generation available, such as solar and wind, in the country. Earlier this year, and as highlighted in a recent blog on our website, Canada's 2023 budget took this progress a step further by setting out significant levels of funding support for future clean energy projects. These include:
As Canada continues its development towards achieving net zero and supporting a sustainable energy economy for the future, Invinity was also proud to host Minister Jonathan Wilkinson as he launched Powering Canada Forward, Canada's first Clean Energy Strategy, alongside Minister Brenda Bailey, British Columbia's Minister of Jobs, Economic Development and Innovation. Invinity is proud to be deploying its utility-scale, commercialised vanadium flow batteries for projects in Canada and around the world and in partnership with some of the leading renewable energy project developers worldwide.
Interested in Finding Out More?
If you're a utility, developer, EPC, or financier please contact our commercial team to discuss the details of your project. We work with you to develop a robust business case and financial model.