Invinity's Vancouver manufacturing facility provided the backdrop for the announcement of Canada's first Clean Energy Strategy by Minister for Energy and Natural Resources, Jonathan Wilkinson
Tuesday 8th August
Invinity Energy Systems, a leading global manufacturer of utility-grade energy storage, was delighted to host Canada's Minister of Energy and Natural Resources, Jonathan Wilkinson alongside British Columbia's Minister of Jobs, Economic Development and Innovation, Brenda Bailey at the Company's newly expanded manufacturing facility in Vancouver.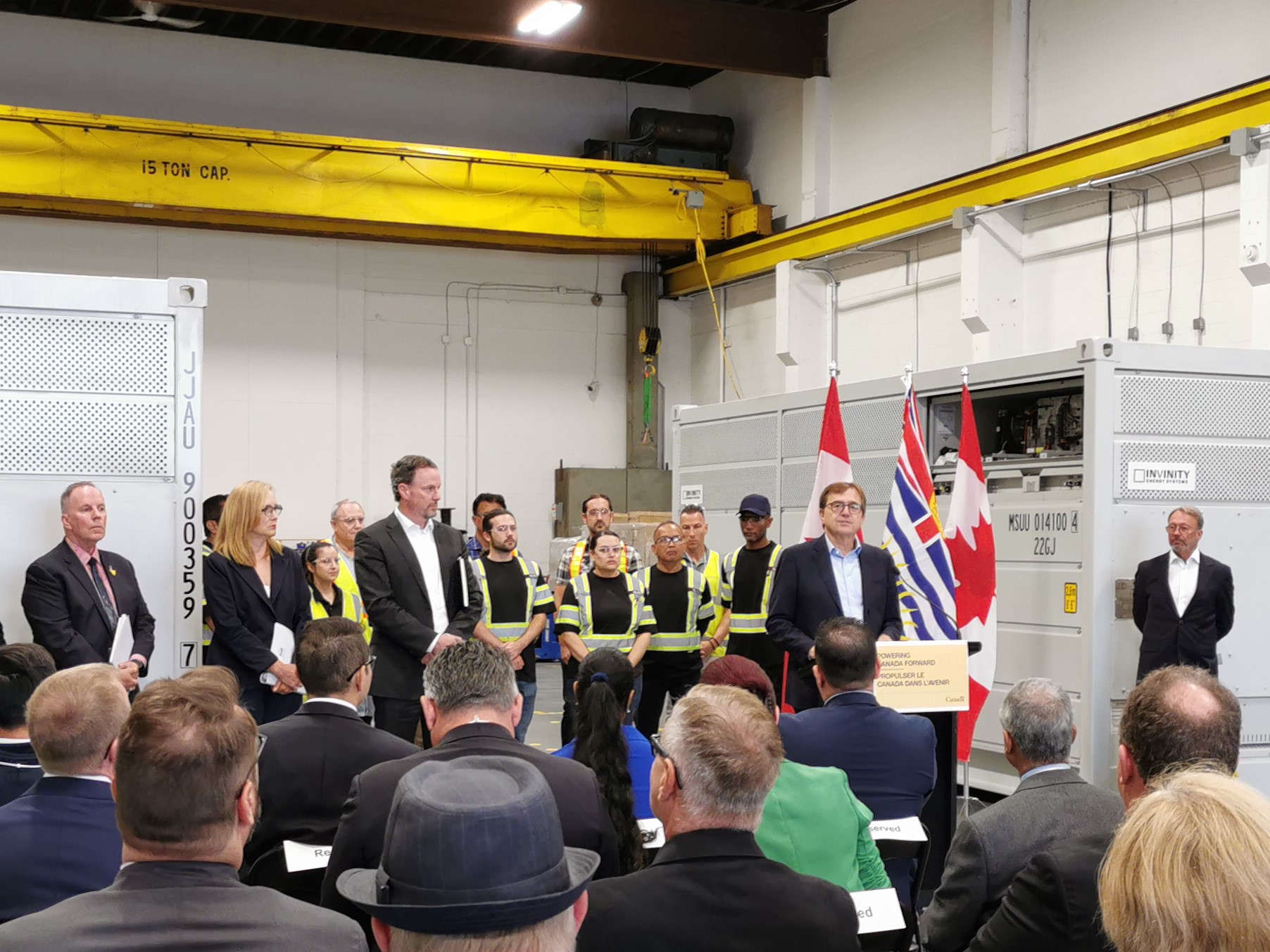 In recognition of the important role that Invinity, amongst others, is playing in establishing Canada as a global leader in battery manufacturing, Minister Wilkinson toured the facility and used the visit to officially launch Canada's vision paper for a clean, reliable and affordable grid. The Minister also announced Canada's intention to develop the country's first Clean Energy Strategy in 2024.
"CICE funding recipient Invinity Energy Systems is a leading example of how Canadian companies are supporting the rapid development of advanced renewable energy technology. Invinity is playing an important role in establishing Canada as a global leader in battery innovation and manufacturing, exporting Canadian expertise from British Columbia to the world.

"The work of Invinity and of other innovative companies across Canada is a crucial part of the federal government's vision, released today, to achieve a clean, reliable and affordable electricity grid. We are proud to support them."
– Jonathan Wikinson PC MP, Canada's Minister for Energy and Natural Resources
Earlier that day, Invinity's facility was the venue for a clean energy roundtable discussion attended by Minister Wilkinson, Minister Bailey and Dr. Ged McLean, Executive Director of the B.C Centre for Innovation and Clean Energy. They were joined by a number of Canada's leading clean energy technology companies, including Invinity which was represented on the panel by Chief Commercial Officer, Matt Harper.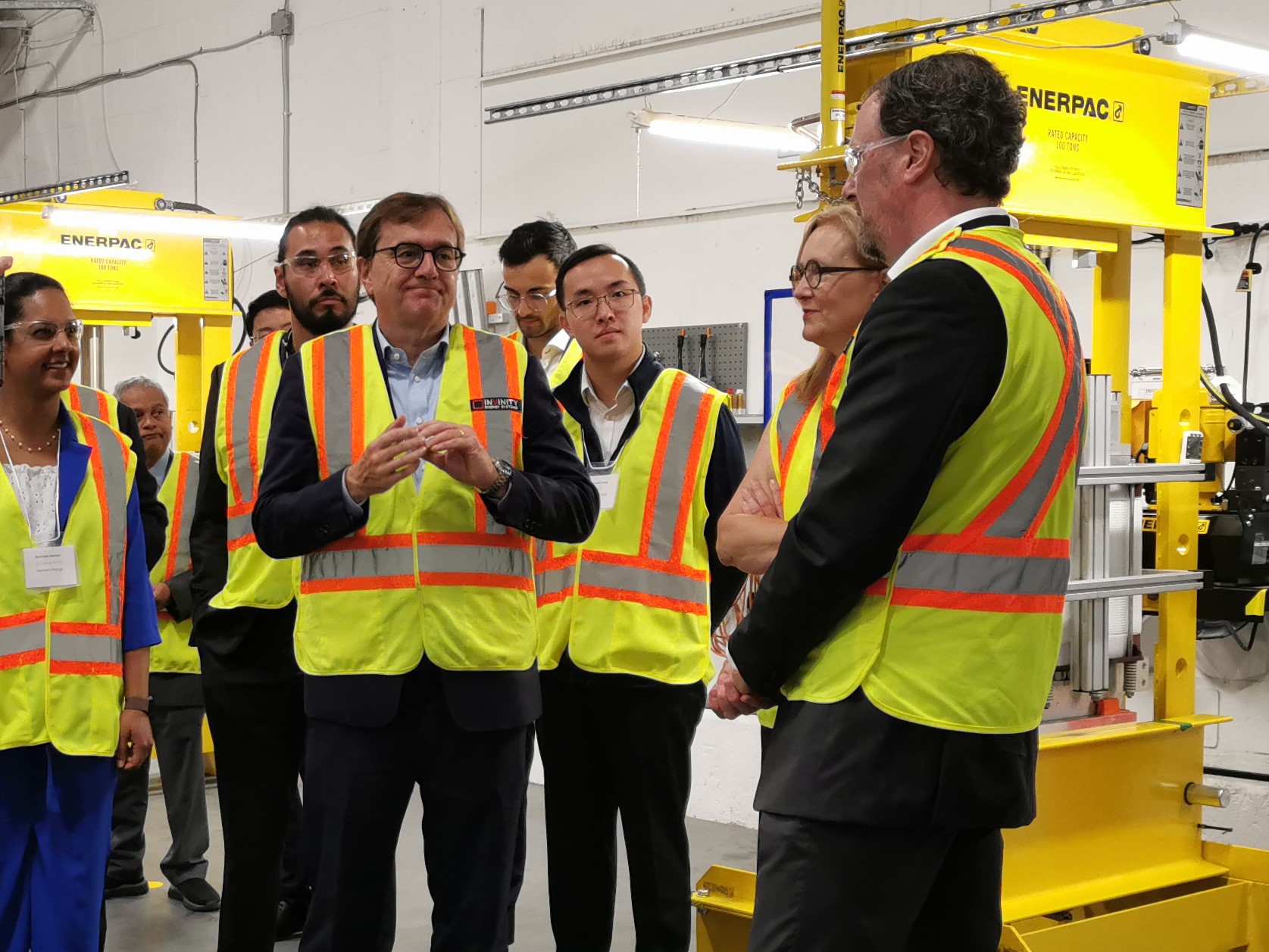 Canada has committed to achieving net-zero before 2050 and as part of the 2023 Federal Budget released in March, announced a six-year 30% investment tax credit for clean energy projects which is expected to significantly accelerate the deployment of renewables and energy storage across Canada in the years to come.
"Invinity Energy Systems is at the forefront of vanadium flow batteries, spearheading game-changing transformation in energy storage to enable a resilient electricity grid. CICE is proud to fund such huge potential to fulfill energy storage and charging requirements for commercial, industrial and utility-grade projects with unparalleled efficiency and reliability."
– Dr. Ged McLean, Executive Director at the B.C. Centre for Innovation and Clean Energy
Earlier this year, Invinity delivered an 8.4 MWh vanadium flow battery, the largest flow battery project of its kind to Canadian renewable project developer Elemental Energy's Chappice Lake Solar Storage project in Alberta. The project, which is expected to go live shortly, will see a 21 MWp solar array coupled with Invinity's battery to generate low-cost, low-carbon electricity on demand for the Alberta grid.
"A clean, reliable electric grid that delivers low-cost energy to Canadian industries, institutions and homes is critical to achieving our country's net zero future. Technological innovation, combined with the strengths that already exist within Canada's industry and labour force, will be the key to delivering that future while strengthening our domestic economy. Invinity are thrilled to have been able to host Ministers Wilkinson and Bailey alongside the BC Centre for Innovation in Clean Energy and other participants to advance this important conversation. We look forward to working within our industry, and with governments at all levels, to realize the role Invinity's vanadium flow batteries will play in building a robust, clean economic future for Canada."
– Matt Harper, Chief Commercial Officer, Invinity Energy Systems