Flow batteries enter Frequency Response market for 1st time
(Originally published on redtenergy.com, July 29, 2019; Updated August 31, 2020.)
Invinity flow battery becomes first vanadium redox flow asset to enter frequency response ancillary service market
Invinity energy storage system actively balances GB grid via Open Energi platform
Non-degrading storage technology, combines with cutting edge optimisation platform to stack multiple value services
redT (now Invinity), an energy storage infrastructure company, and Open Energi an energy tech company using advanced technology to reduce the cost of delivering and consuming power, today announce that, for the first time, a vanadium redox flow battery has achieved pre-qualification status from National Grid Electricity System Operator to provide Dynamic Firm Frequency Response (dFFR) services to the GB grid.
Invinity's 300kWh flow battery is situated at an industrial site in Dorset, coupled with 250kWp of solar panels. By installing the system, the customer saves more than a third on their energy bill by maximising the use of cheap, onsite solar generation and purchasing energy from the grid at off-peak prices, while also now opening up new revenue streams in the form of ancillary services including frequency response.
You can read more about Invinity's offering for UK C&I sites here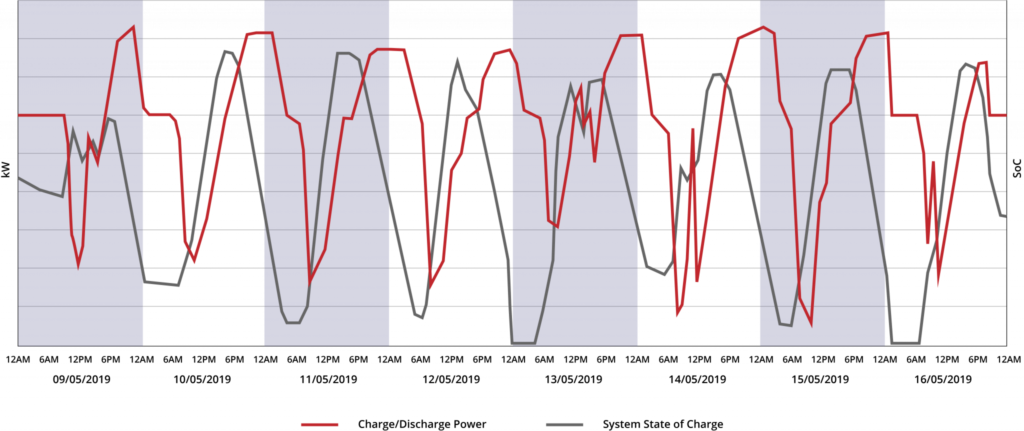 Daily cycling of the Invinity battery taking place during May 2019
In order to maximise returns from the different services available, the machine is integrated onto Open Energi's Dynamic Demand 2.0 energy optimisation platform, which uses artificial intelligence and machine learning to control the flow machine and deliver industry-leading cost savings and revenues to customers.
Invinity's flow battery technology is well suited to applications requiring high levels of asset utilisation, i.e. revenue stacking and frequent daily operation (heavy cycling). Because flow batteries don't degrade like conventional batteries, they can perform frequency regulation as well as other ancillary grid revenue services, whilst also undertaking daily 'solar firming' activity for no additional degradation cost per cycle. The combination of Invinity's batteries and Open Energi's leading edge optimisation platform generates maximum benefit for end-users.
The GB ancillary services market exists to balance out fluctuations in the national electricity network caused by over/under supply, outages and the growing number of intermittent renewables coming online. The entry of flow batteries into this market marks a potentially significant milestone for the future of energy storage, in an application which has traditionally been dominated by lithium-ion technology.
Scott McGregor, CEO at redT said:
"Flow (batteries) are traditionally thought of as long duration energy storage assets and there is a common misperception flow (batteries) can't provide the fast response required for grid services. With the help of Open Energi and their impressive Dynamic Demand 2.0 platform, we have been able to prove that our flow (batteries) can provide a full range of services with no marginal degradation cost per cycle, making them a viable and economically attractive alternative to traditional lithium-ion systems.
"This achievement demonstrates the ability of non-degrading, heavy-cycling energy storage technologies such as flow (batteries) to provide much needed flexibility to the network. This is a key opportunity for investors, energy managers and business owners to deploy 25-year energy storage infrastructure, at their sites – an essential piece of the puzzle our country must solve in order to achieve net-zero by 2050."
David Hill, Commercial Director at Open Energi said:
"As the UK continues to prioritise investment in renewable energy, it will require a broad suite of technologies to balance the grid effectively and harness additional flexible capacity. The partnership between (Invinity) and Open Energi provides tangible evidence of the vital and important role cutting edge technologies will play in achieving a 100% renewable grid."
Want to find out more?
Learn more about our offering for the UK C&I sector here.
Alternatively, contact our team for a bespoke assessment of your project.