Energy Superhub
Oxford (ESO)
Invinity has delivered a 5 MWh flow battery system to Energy Superhub Oxford, one of the most exciting urban decarbonisation projects ever undertaken. Find out more in the case study below.
A World-First Low-Carbon Mobility, Electricity and Heat Energy Superhub
The Energy Superhub Oxford (ESO) project is one of the most ambitious urban decarbonisation projects to have been undertaken in the UK to date. A world first, it is a recognised blueprint for other cities to follow as part of the transition to Net Zero.
The Brief
As one of three demonstrator projects part-funded by the UK Government's Industry Strategy Challenge fund under its "Prospering from the Energy Revolution" (PFER) programme, ESO is designed to deliver innovation in smart local energy systems. This transmission-connected project's purpose is to decarbonise Oxford's power, transport, and heat networks to help the city successfully transition to Net Zero by using cutting edge energy storage systems. This future-proofed, flexible system will a low carbon heating network, and smart energy management technologies, help to eliminate 10,000 tonnes of per year once operational, rising to 25,000 tonnes per year by 2032.
As part of a consortium of partners delivering the entire hybrid battery project, Invinity was chosen because its VS3 modules are able to perform deep charge/discharge cycles multiple times each day; safely, reliably and without degradation. These characteristics mean our flow batteries are ideally suited to the "heavy-lifting" requirements of grid scale energy storage projects with high asset utilisation or long (2 – 10 hour) charge/discharge durations.
The Result
Working closely with our partners, Invinity successfully delivered, installed and energised a 2 MW / 5 MWh battery – the UK's largest flow battery to date – comprising 27 VS3 flow batteries, to the site in Cowley, Oxford. Our vanadium flow battery technology sits at the heart of a total 50 MW 'hybrid' lithium-ion/vanadium flow battery system and enables load shifting for overnight charging of fleet vehicles, the opportunity to provide services to National Grid and to trade on energy markets via an innovative energy management system designed by Habitat Energy.
Pioneering Hybrid Energy Storage Technology
The hybrid nature of this battery will ensure the maximum potential of this system can be achieved over a longer time period. In a hybrid system, flow batteries can be used to 'front-end' lithium-ion or other technologies, acting as a first responder for a large proportion of system use. Using non-degrading flow battery technology in this manner reduces throughput on limited cycle technologies such as lithium-ion to prolong their life. This is demonstrated in the diagram below.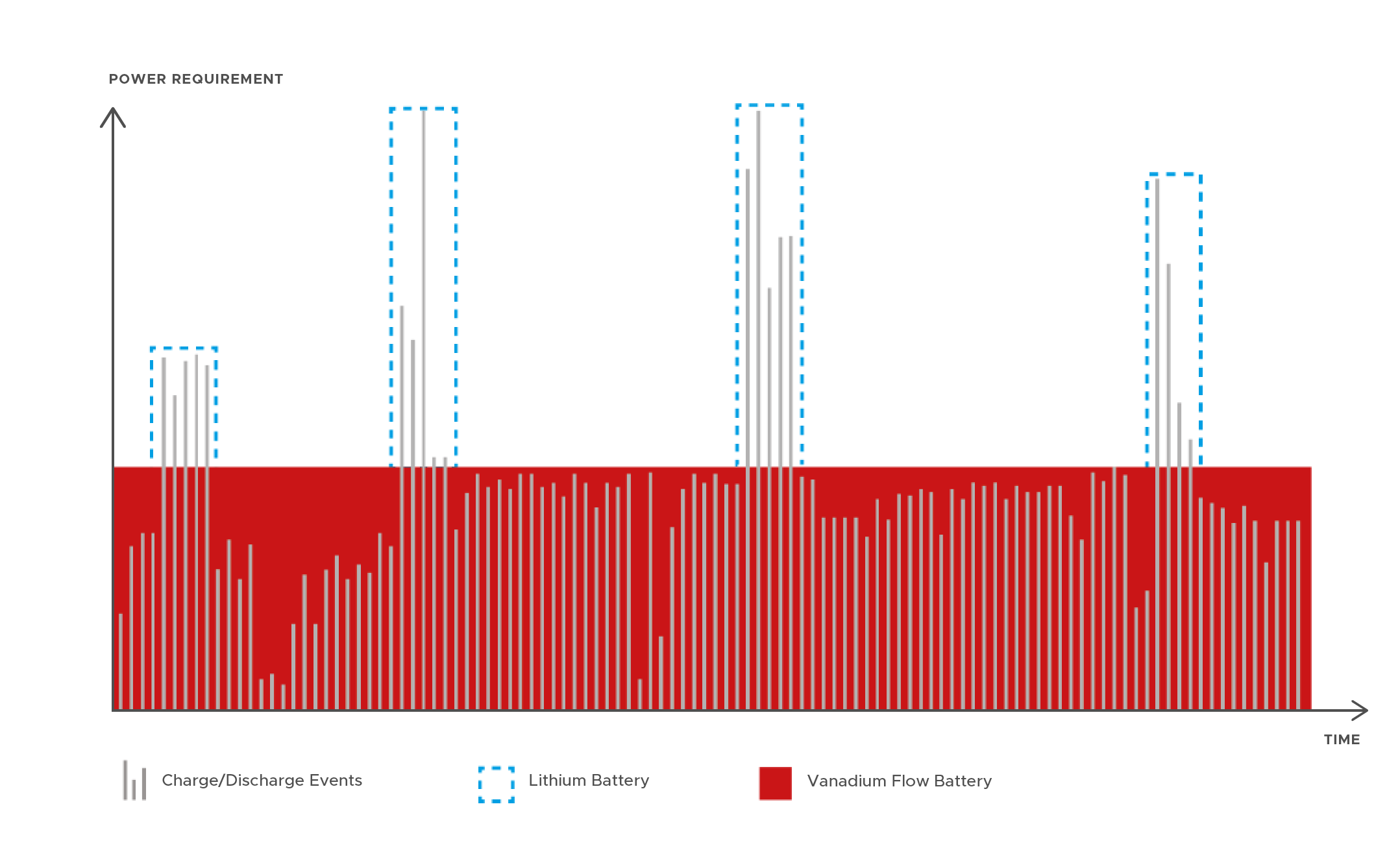 Click the links below to learn more about who we are working with on the Energy Superhub Oxford Project