Thomas Codrington, British Consul General in British Columbia, visits Vancouver facility
Thursday 26 May 2022
Invinity Energy Systems was delighted to welcome Thomas Codrington, the British Consul General representing the UK in British Columbia, Yukon and the Northwest Territories on a visit to the Company's manufacturing facility in Vancouver, Canada. The visit included an opportunity to inspect Vanadium Flow Batteries (VFBs) in production, a guided tour of the facility and Mr Codrington took time to meet with Invinity staff during the visit.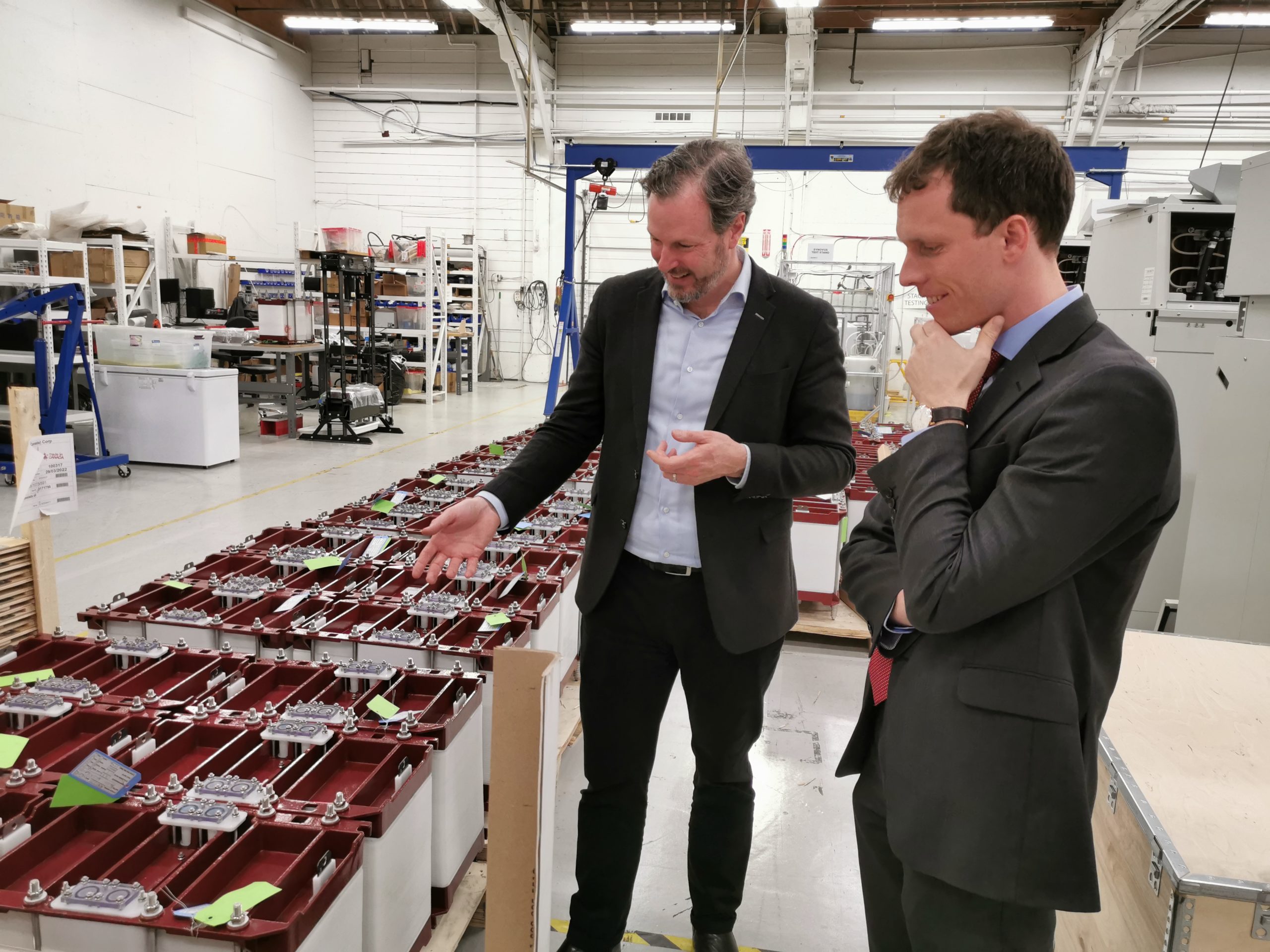 Above: Invinity CCO Matt Harper showing British Consul-General Thomas Codrington stacks in Invinity's Vancouver facility
The Company's Vancouver facility, like the Bathgate facility in Scotland, plays a crucial role in assembling the battery systems which will unlock low-cost, low-carbon, renewable energy on-demand for Invinity's customers around the world. Invinity's Canadian operations have expanded rapidly in the past year and now employs a staff of more than 70 who apply their wide-ranging skills to produce Invinity's clean energy technology and support the growing renewable energy economy in Canada.
"I found it really interesting to see Invinity's work in action. I think Invinity illustrates the innovative UK-British Columbia collaboration that is crucial for tackling climate change and creating a renewable energy future. Invinity also shows how clean tech innovators can link their operations in BC and the UK to service global markets and make the most of the opportunities, ideas and connections in both places – which I hope will be even easier in future thanks to the ambitious Free Trade Agreement that the UK and Canada are negotiating right now."
– Thomas Codrington, British Consul General
In what many consider a "watershed moment" for Canadian climate policy, Prime Minister Justin Trudeau recently set out a C$9.1bn roadmap to cut carbon emissions 40-45% below 2005 levels by 2030 with the electricity sector "making much bigger cuts". The country aims to generate 90% of electricity from emissions-free sources by 2030 and the Canadian Electricity Association has recognised that climate change and the push toward electrification will mean that Canada needs new technology that allows for greater storage of power and a mix of smaller community-based projects.
The flow batteries manufactured in Invinity's Vancouver site, recently certified as compliant with ISO standards for Quality Management (ISO 9001), Environmental Management (ISO 14001) and Health & Safety Management (45001), can play a key role in supporting Canada's emissions reduction activities by ensuring that the low-cost, low-carbon energy that is produced from renewable generation, such as wind and solar, can be dispatched to fill in "the missing hours" when the wind does not blow or the sun does not shine. In recent Canadian news for Invinity, the company has sold an 8.4 MWh VS3 flow battery to Elemental Energy for their utility-scale solar + storage project in Chappice Lake, Alberta. Due to become operational in late 2022, this project will directly result in the reduction of approximately 20,000 tCO2e/year, or the equivalent of taking 4,300 passenger vehicles off the road. It's also expected that the further commercialisation of this close combination of renewable generation and storage will pave the way for significant increases in both wind and solar penetration across the province, delivering a potential 90,000 tCO2e/year of further GHG reductions across the province by 2030.
"There is no project more important for humanity than transitioning our societies and industries to energy sources that generate net zero carbon emissions. A transition at that scale requires a global effort, engaging governments and policymakers at all levels to create the conditions within which innovative individuals, institutions and organisations can drive change.

Both the United Kingdom and British Columbia have been ardent supporters of the innovators who create, the skilled workers who build, and the companies that commercialise clean energy solutions. Invinity has been fortunate to operate within that context, allowing us to rapidly assemble the best and brightest minds to develop and deploy our vanadium flow batteries worldwide. In doing so, we have firmly established the part Invinity will play as we accelerate towards our net zero future.

We were thrilled to have Mr Codrington visit our Vancouver facility, and look forward to further engagement between the UK and BC – from our employees to the highest levels of government – as we continue to advance this critical work."
– Matt Harper, Chief Commercial Officer, Invinity Energy Systems