Case Study: Yadlamalka Energy
Invinity is helping to create Australia's first dispatchable solar power plant by supplying an 8 MWh Vanadium Flow Battery (VFB) which will be used to create low-carbon dispatchable power from a 6 MWp solar array.
Find out more in the case study below.
The Project
The brainchild of South Australian entrepreneur and landowner, Andrew Doman and developed by the Yadlamalka Energy Trust, this highly innovative, solar + storage project will see the deployment of one of the world's largest solar-powered vanadium flow batteries (VFB) as part of the first-of-a-kind $20m AUD project.
Coupling a 6 MWp solar plant with an 8 MWh Invinity VFB at the site in South Australia will unlock low-cost, low-emission energy for the South Australian grid and produce approximately 10GWh of dispatchable solar power each year.
[Image: key metrics from the site – battery size, solar size, GWh output, Carbon savings, capacity/duration, capacity factor?]
The Market
Australia's rapid uptake of renewable energy in recent years has driven the need for investment in flexible energy storage technologies to manage the variable output from those generation sources. This project provides a glimpse into the future of electricity grids in Australia and around the world and has received support from ARENA, the Australian Renewable Energy Agency.
Wholesale energy pricing in South Australia, like other markets which have a high penetration of renewables, has a distinctive shape characterised by low (even negative) energy prices in the middle of the day, with two distinct price spikes occurring around sunrise and sunset.
This characteristic shape is caused by large amounts of low-cost solar power coming online during daylight hours creating oversupply in the market. When the sun goes down, this low-cost capacity drops off rapidly, leading to undersupply whilst conventional generation ramps up to fill the shortfall. Due to its distinctive shape, this market behaviour is often referred to as the solar 'duck' curve.  
Figure below: Seven days in Feb 2022 of electricity generation. Source: Reneweconomy.com.au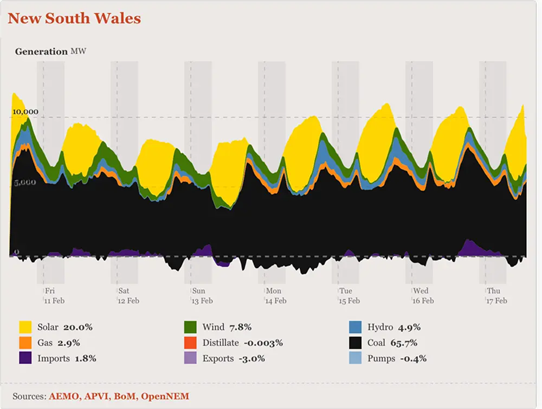 The Business Case
The solar duck curve raises an important point for Solar developers and project owners and is a key motivation for the project. Solar-only projects can only output during daylight hours and are therefore exposed to risk from lower prices as their revenues are cannibalised by other solar-only projects in the area exporting power at the same time.
Flow batteries provide the answer to overcoming this risk for developers and asset owners. By storing energy when market prices are low during the day, and discharging into the evening and morning peaks, asset owners can maximise their returns and derisk revenues relative to solar-only projects.
Making low-cost, low-carbon solar power 'dispatchable' in this way unlocks its ability to compete directly with conventional coal and gas power plants on the National Electricity Market (NEM), helping to accelerate Australia's energy transition.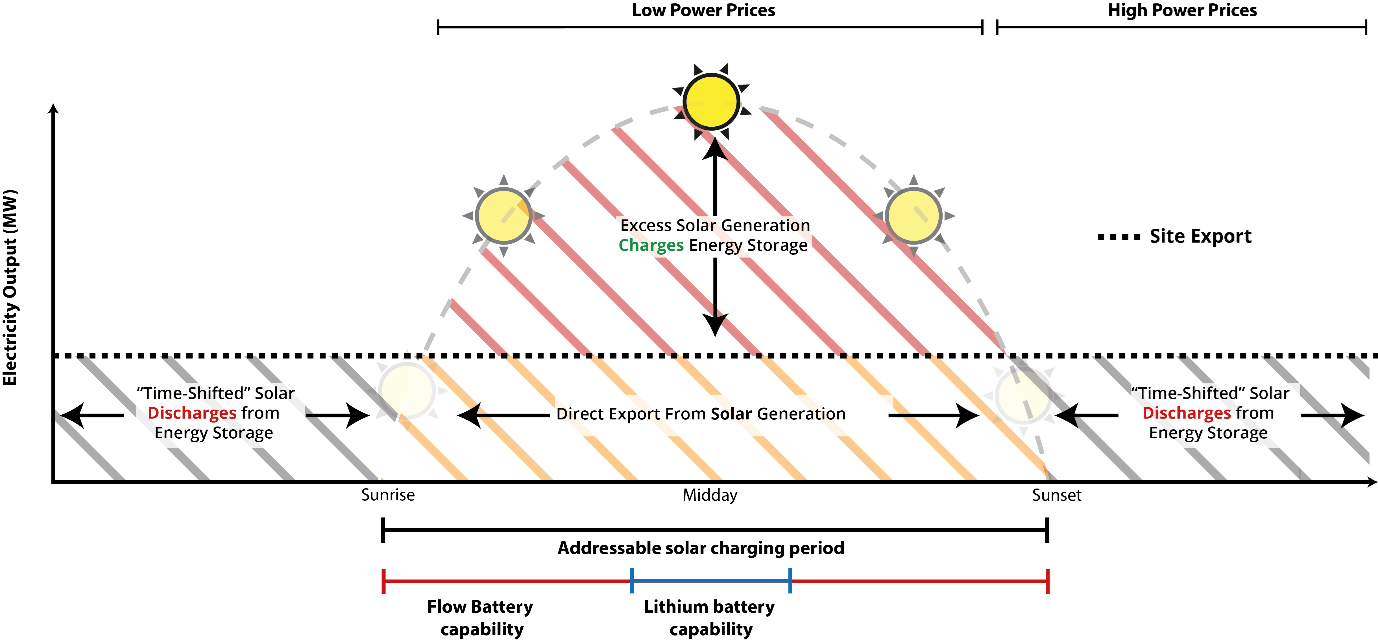 'Stacking' Cycles for Maximum Project Returns
As flow batteries do not suffer from degradation like lithium-ion technology, they can be used constantly throughout the day, charging and discharging for a range of services. The project will utilise the flow battery to perform 3 different revenue-producing services, detailed below.
These multiple cycles can be 'stacked' together throughout the day to provide maximum flexibility and maximum return for the project owners. The flow battery operating philosophy is demonstrated below.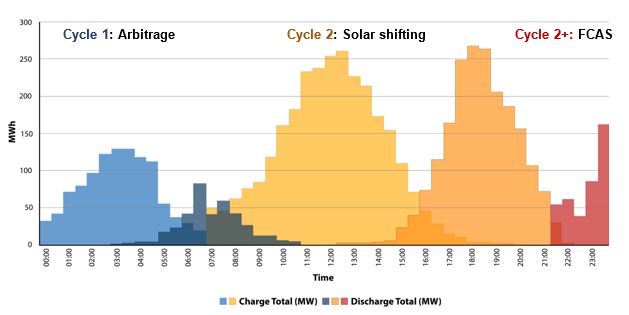 This operating strategy maximises throughput on the flow battery, which is charging and discharging almost constantly over any given 24 hours. Returns are generated from 3 distinct applications:
Morning price arbitrage – storing low-cost energy from the grid overnight, discharging into the morning price peak.
Solar shifting – storing excess solar generation during the daytime when prevailing market prices are low and discharging into the evening price peak.
Frequency Control Ancillary Services (FCAS) – performing frequency control services for the local grid receiving an availability payment.