Viejas Casino & Resort Solar & Storage Microgrid
Invinity is delivering a 10 MWh VS3 vanadium flow battery system, expected to be the largest of its type in the USA, as part of a ground-breaking enterprise microgrid for the Viejas Tribe of Kumeyaay Indians near San Diego, California.
Find out more in the case study below.
Cutting-edge Californian microgrid to provide 24/7 energy security using solar PV and vanadium flow batteries
California is leading the nation in electrifying and decarbonising its energy infrastructure. The combination of vanadium flow batteries with on-site renewable generation at this project will ensure continuous clean energy is available, day or night, promote tribal energy autonomy and accelerate the path toward net zero in California.
Driven by an increasing number of Public Safety Power Shutoff (PSPS) and blackout events over the last few months, in October 2022 the Viejas Tribe of Kumeyaay Indians commissioned a cutting-edge, multi-technology Solar and Storage microgrid project as part of their own energy security plan that will ensure they have a 24/7 supply of clean, reliable energy for their Viejas Casino and Resort. In light of well-publicised fire incidents in California involving existing lithium-ion technology, the tribe were looking for a storage system that would not only be safe but could also provide a longer duration of energy discharge compared to lithium-ion systems, be quick and efficient to install and be able to match the lifetime of the solar panels.
At the same time, the California Energy Commission (CEC) is incentivising developers and communities, via its Long Duration Energy Storage Program, to design and develop blueprint projects that can support grid reliability and the state's transition to 100% clean electricity. Driven by these factors, the Tribe chose to use Invinity's vanadium flow batteries for this project due to their safety, lifetime, lack of degradation and ability to provide daily, long duration charge and discharge cycles that are required for solar shifting.
The Project and the Location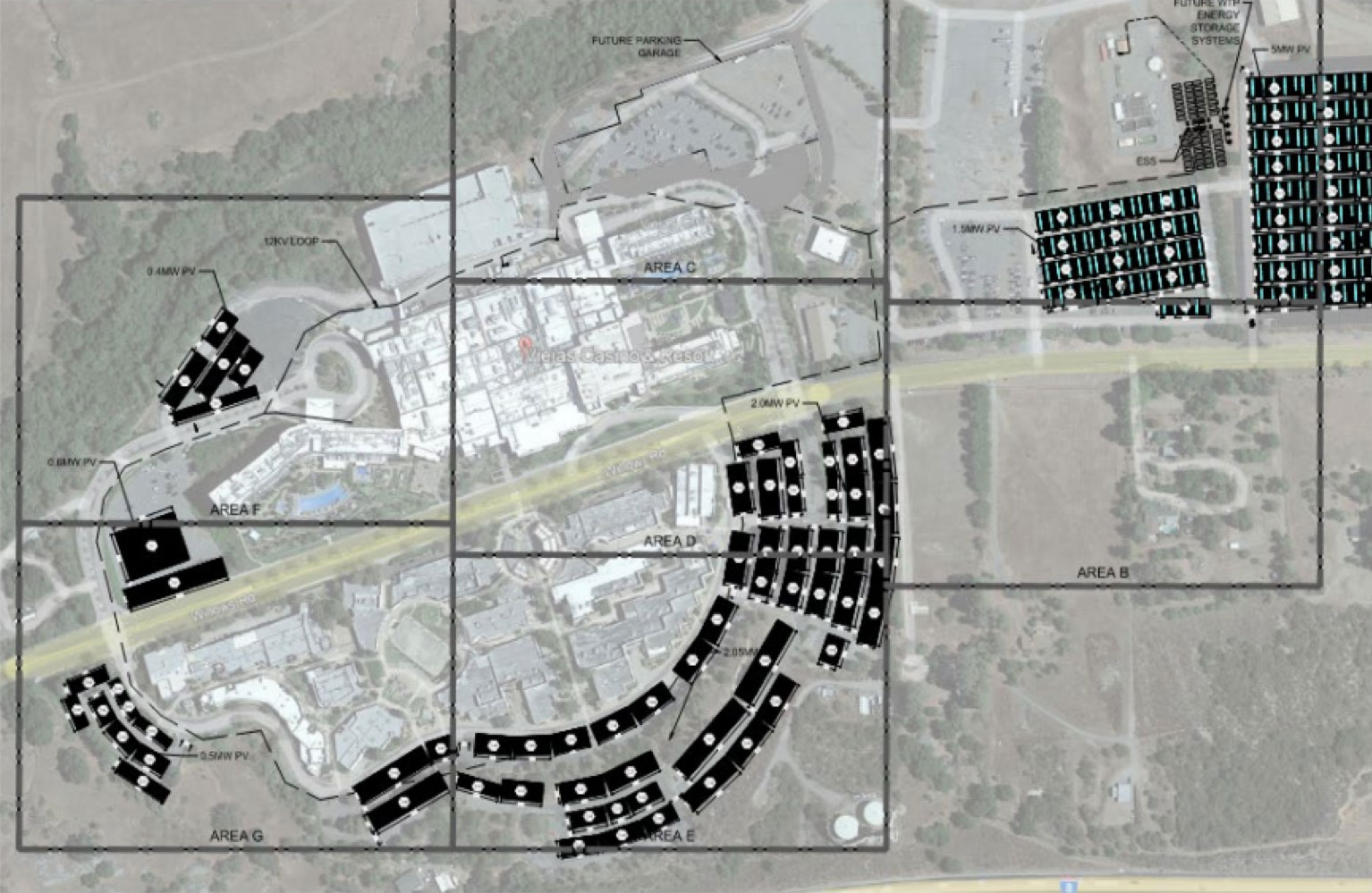 Alpine, California has a monthly average of 23.5 days of sun making a solar PV system a logical renewable generation choice. However, to ensure continual renewable power is available, battery storage is necessary, especially as the Viejas Casino is a 24/7-hour facility.
The microgrid will consist of a 15 MWp carport solar array collocated with a large battery storage system (see plan image above) that will be charged from the solar PV and discharged over a 10-hour duration that is designed to cover the Casino's base load.
The battery will be used primarily for Solar Shifting, which means the battery will store excess solar generation during the daytime when prevailing market prices are low and discharge into the evening price peak and at other times when demand is high (demonstrated in the chart below).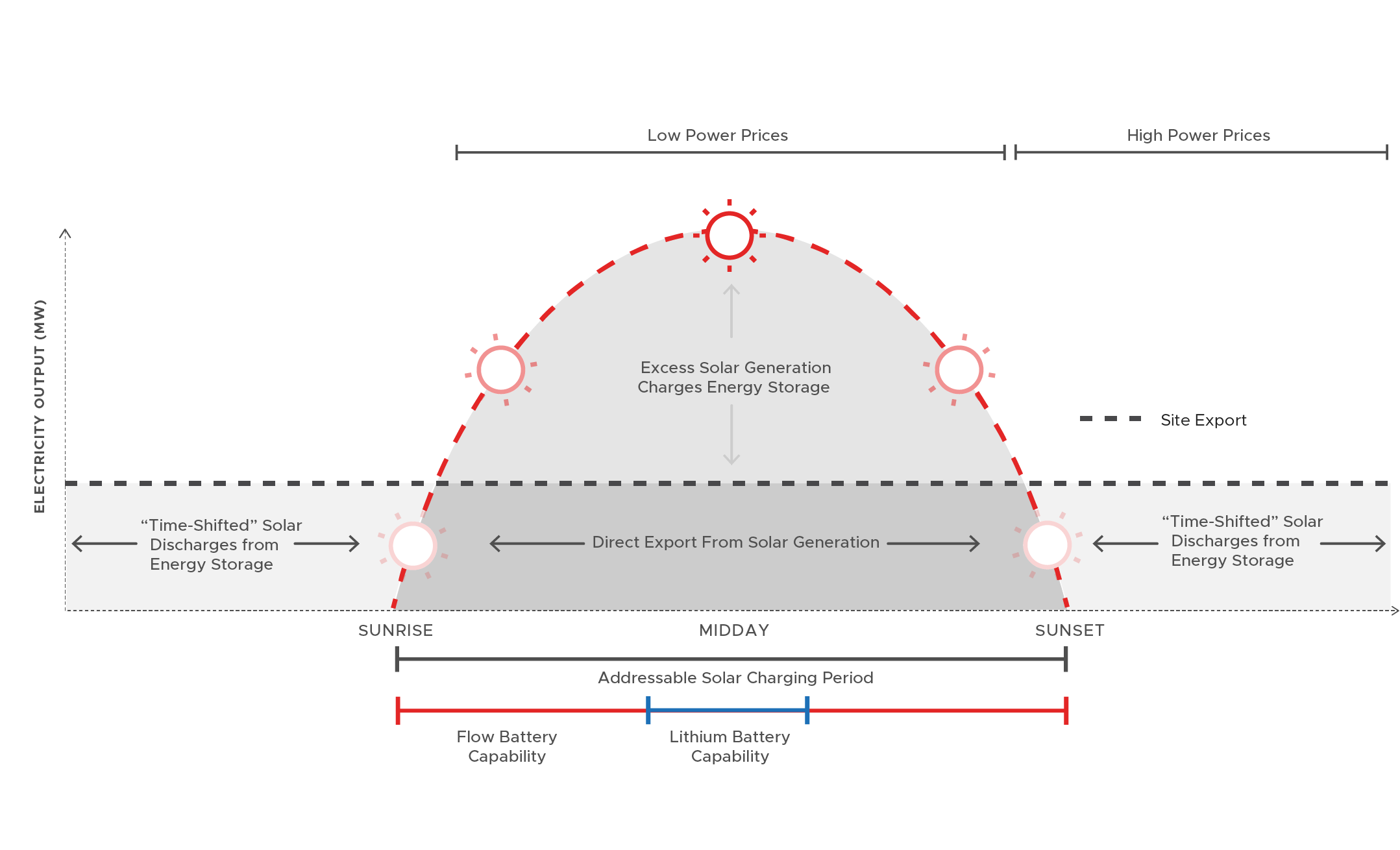 Working closely with the project development partner Indian Energy, the Company designed a 10 MWh vanadium flow battery system using its Invinity VS3 product and assisted the developers and the tribe with the application to the CEC for funding worth up to $31 million.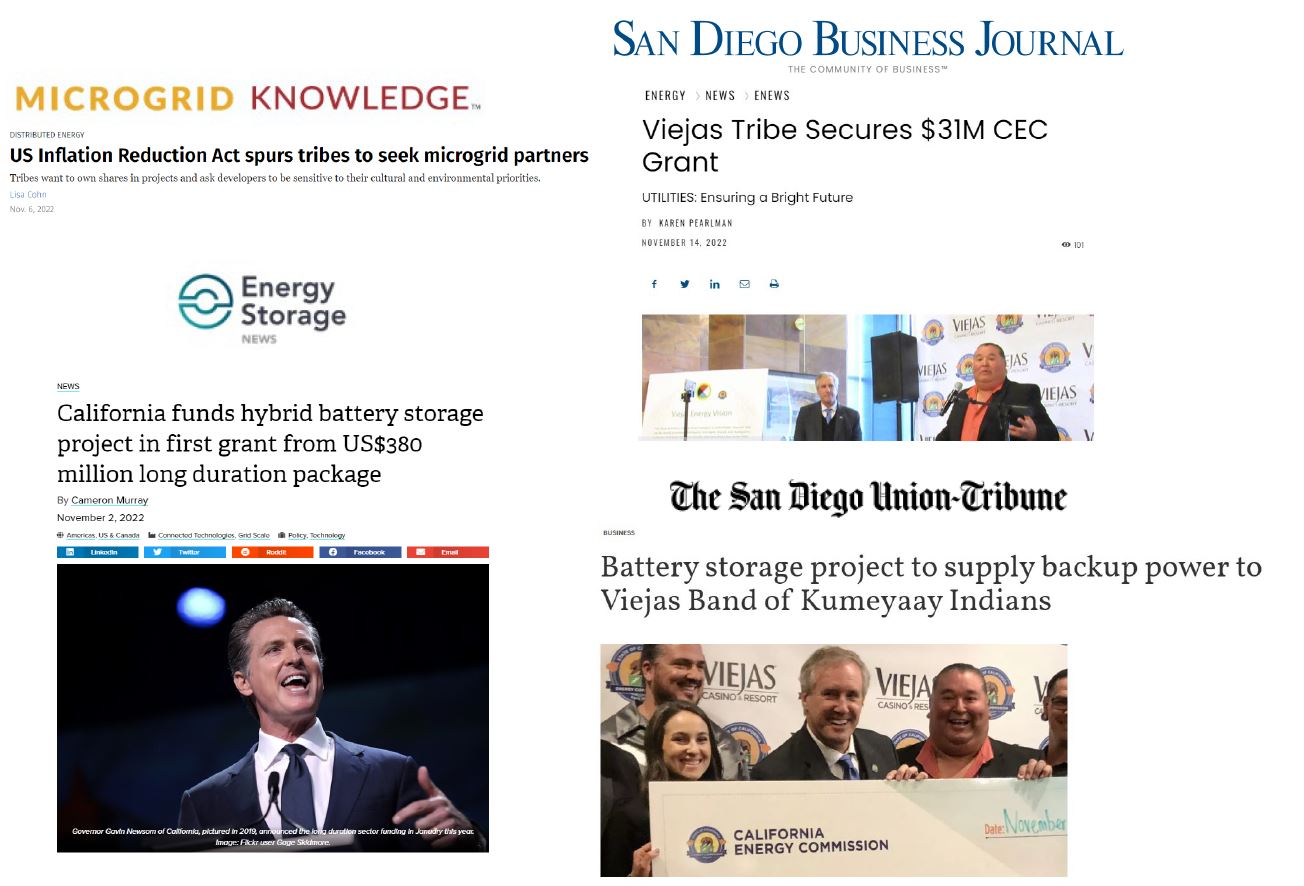 The big picture: California leads the way on electrifying and decarbonising its grid
California currently has a large daily generation deficit (see chart below) which is driving the need for a significant amount of longer duration energy storage to smooth the generation gap.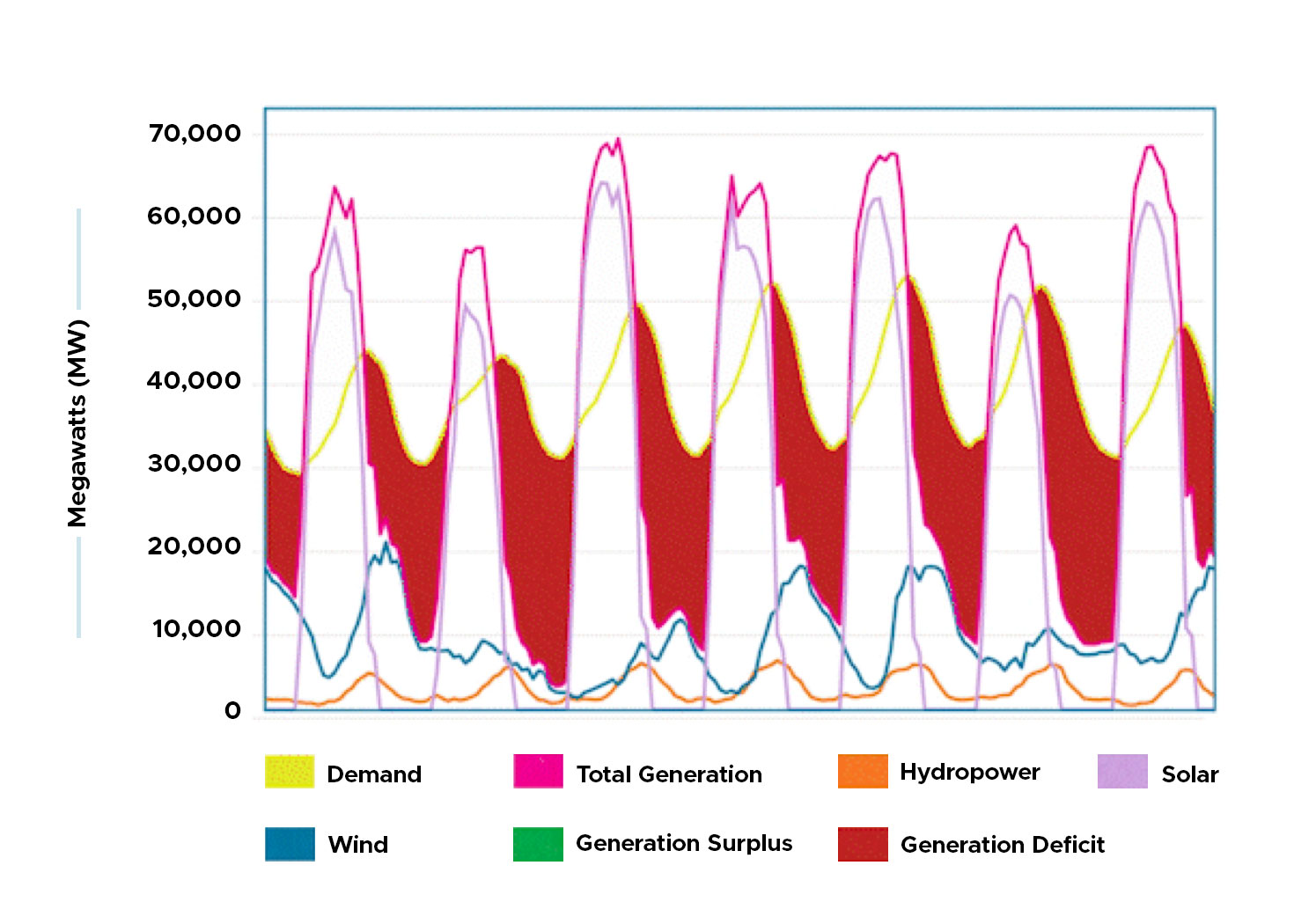 Current clean energy targets in 28 states and Washington D.C. require 34% of electricity consumed in the U.S. to be for non-emitting resources by 2050 (based on 2020 electricity consumption figures).
As at May 2023, total US battery storage capacity climbed 52% year on year to 10.777 GW, with California leading the nation with 48.2% of total US capacity and Texas catching up rapidly as the importance of energy security in the transition to net zero is realised. To manage the intermittent nature of renewable sources, California is working with partners to install long duration energy storage solutions to ensure the future electric grid improves upon today's reliability and safety at a low cost to consumers. Part of that path includes having large-scale electricity customers implement their own reliable, resilient renewable generation, such as the Viejas Tribe are doing with this project.
Interested in Finding Out More?
If you're a utility, developer, EPC, or financier please contact our commercial team to discuss the details of your project. We work with you to develop a robust business case and financial model.