Invinity Energy Systems, alongside Pivot Power, part of EDF Renewables, has today fully energised the UK's largest flow battery as part of Energy Superhub Oxford.
Friday 17 December 2021
This world-first, £41 million project is pioneering an integrated approach to decarbonising power, transport and heat to accelerate Oxford's journey to Net Zero.
The 5 MWh flow battery system, manufactured in the UK by Invinity, will combine with a 50 MWh Wärtsilä lithium-ion battery to operate as a single energy storage asset. Not only will this be the largest directly-transmission-connected battery installed in the UK to date, it will be the largest vanadium flow + lithium-ion hybrid battery ever deployed. This hybrid approach leverages the strengths of each technology to increase grid resiliency and create a smarter, more flexible energy system, ultimately supporting the integration of more renewable generation onto the UK grid.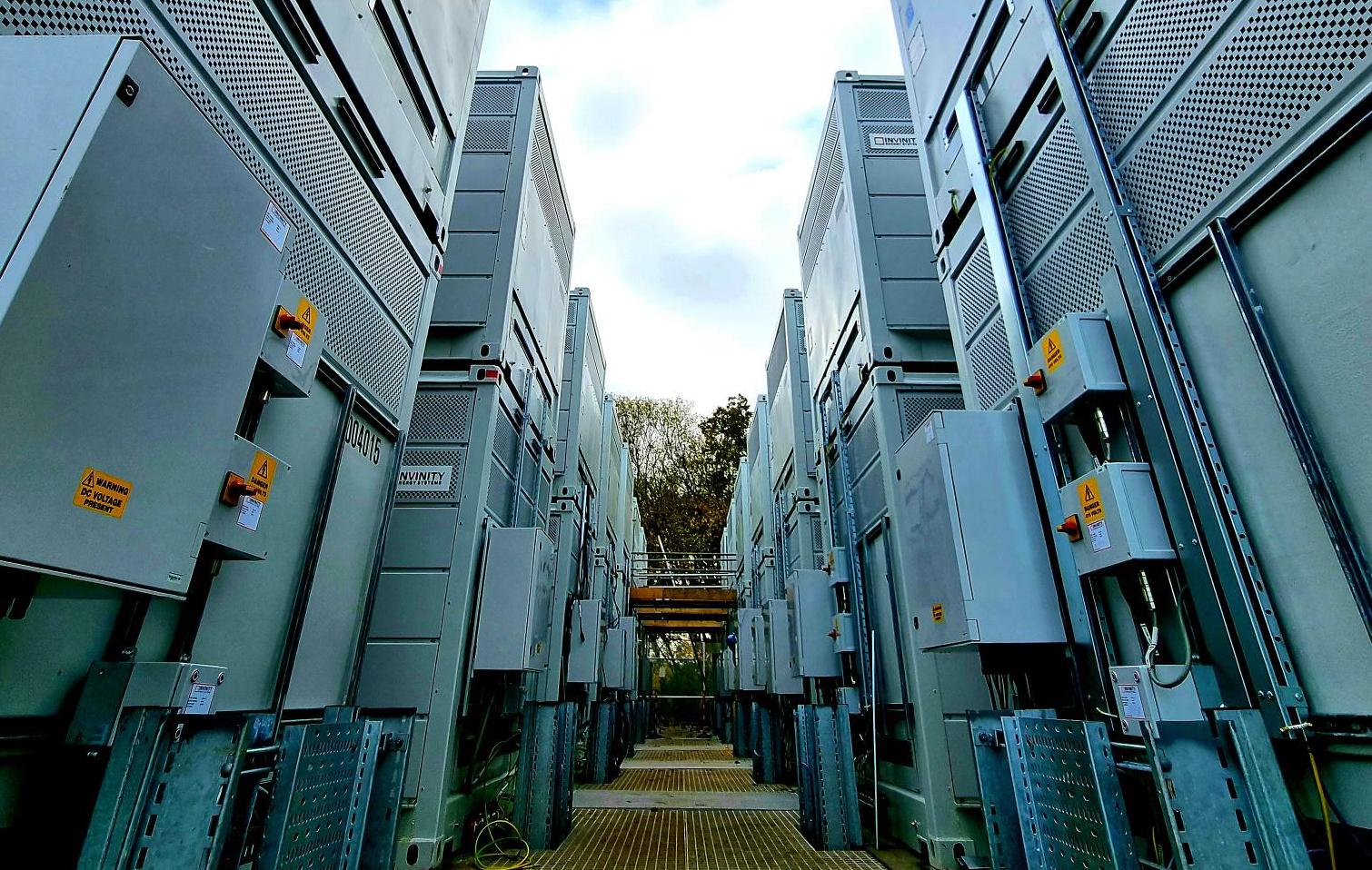 Above: All 27 Invinity VS3 batteries installed on site 
In the ESO hybrid energy storage system, Invinity's vanadium flow batteries are used to 'front-end' the energy asset, acting as a first line of response when the system is called into service; only after the required response exceeds the capacity of the Invinity battery does the lithium-ion battery get called into service. Since Invinity's flow battery does not degrade with use and can cycle indefinitely, it performs much of the 'heavy-lifting' required from the system while reducing wear on the lithium-ion battery.
Led by Pivot Power, Energy Superhub Oxford is one of the most ambitious urban decarbonisation projects ever undertaken in the UK. Showcasing cutting-edge electric vehicle charging, groundbreaking energy storage capabilities, low carbon heating and smart energy management technologies, the project aims to save 10,000 tonnes of carbon dioxide emissions per year once fully operational, rising to 25,000 tonnes per year by 2032. In Spring 2022 the project is set to open the UK's largest public electric vehicle charging hub on the outskirts of Oxford, at Redbridge Park & Ride.
"Energising the vanadium flow battery is an important step towards full commissioning and operation of the system. Once live, this cutting-edge hybrid battery will demonstrate how vanadium flow and lithium-ion technologies can be combined for maximum benefit, to accelerate net zero and power our lives with clean energy."
– Tim Rose, Programme Manager for Energy Superhub Oxford at Pivot Power
Since September, Invinity has installed 27 of its VS3 flow batteries, each the size of a 20ft shipping container, at the battery site alongside National Grid's substation in Cowley, Oxfordshire. Combined these batteries can deliver over 5 MWh, enough energy to serve the daily electricity needs of over 600 UK households.
Invinity is working with battery trading optimiser Habitat Energy and power electronics supplier Gamesa Electric on the final integration and commissioning of the battery ahead of launch.
With a working life of over 20 years even in heavy-duty use, VFBs are well suited to the daily demands of making intermittent renewable generation available on demand. VFBs are non-flammable and are nearly 100% recyclable, enhancing their sustainability. And because of their long life, VFBs can deliver energy to the electric grid at extremely low levelised costs.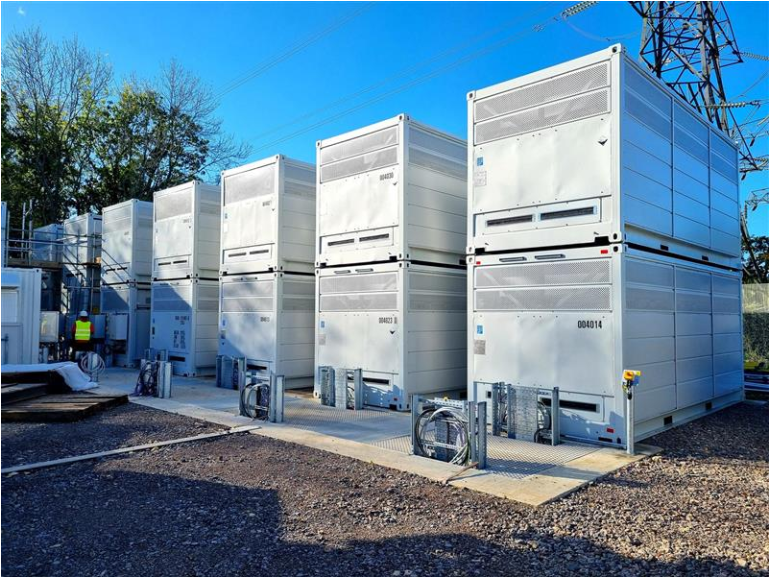 Above: ESO Second Invinity Cluster (9 batteries per cluster) installed ahead of arrival of final cluster delivery 
Invinity is already operating its technology in the world's largest energy storage markets including California, Australia and across the UK. Projects incorporating Invinity's batteries are projected to avoid the equivalent of 22,000 tonnes of CO2 emissions this year alone.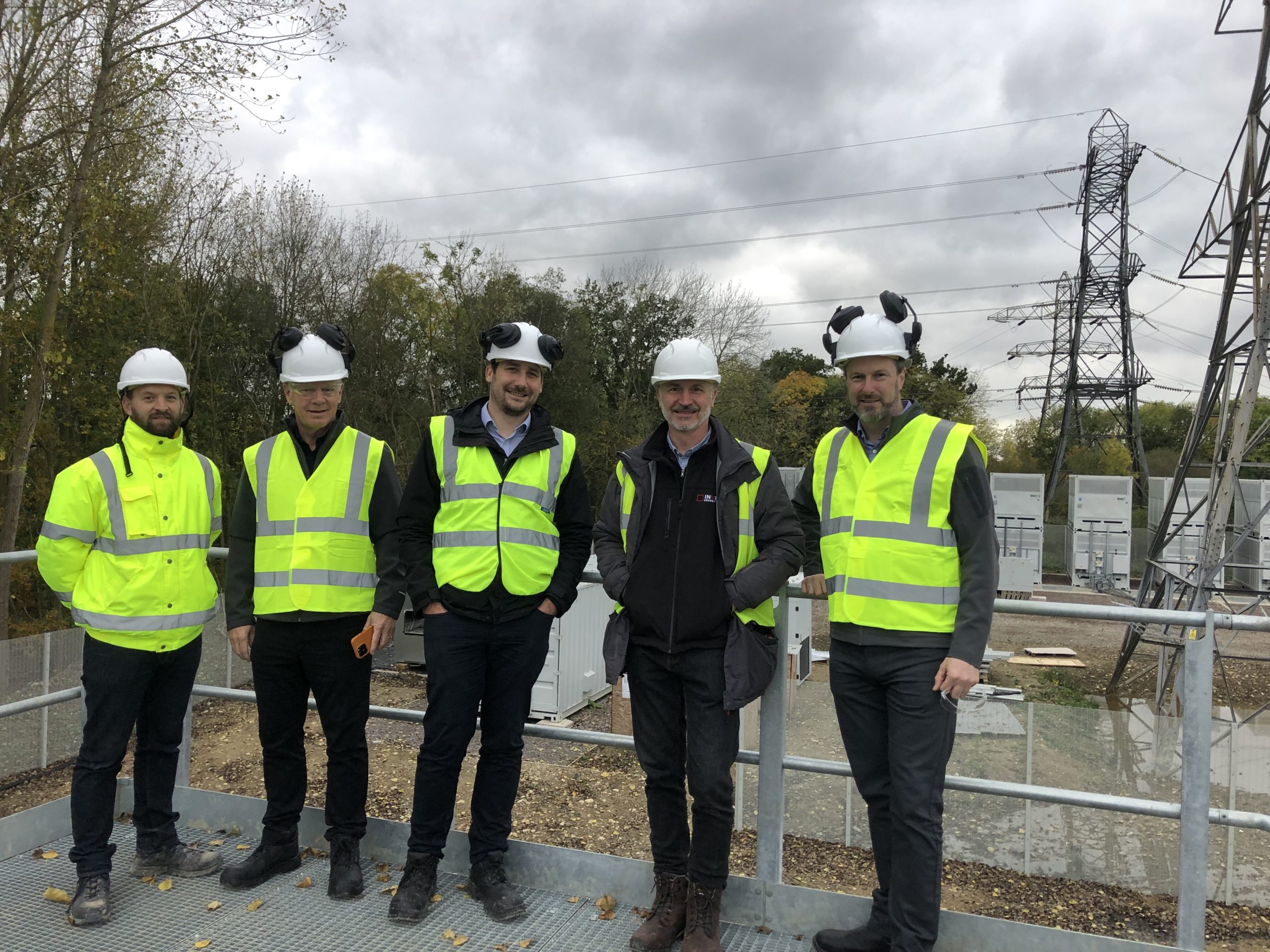 Above: CEO Larry Zulch (2nd left), VP Jean-Louis Cols (2nd right), CCO Matt Harper (right) and team on site 
"Energising the largest flow battery in the UK marks a proud moment for Invinity, but even more important is how this innovative project is a model for cities worldwide. It demonstrates that energy storage pioneers such as Pivot Power can collaborate with local government to deliver a future-proofed, flexible grid that supports the renewable energy transition and the shift to an electrified, net zero future. We are honoured to support Energy Superhub Oxford with utility-grade energy storage."
– Larry Zulch, Chief Executive Officer, Invinity Energy Systems