Gillian Martin MSP highlights Invinity's role in a net zero future during visit to Bathgate manufacturing facility.
Thursday 6 July 2023
Invinity Energy Systems, a leading global manufacturer of utility-grade energy storage, was delighted to welcome Gillian Martin MSP, the Minister for Energy and the Environment in Scotland, to the Company's manufacturing facility in Bathgate, West Lothian yesterday.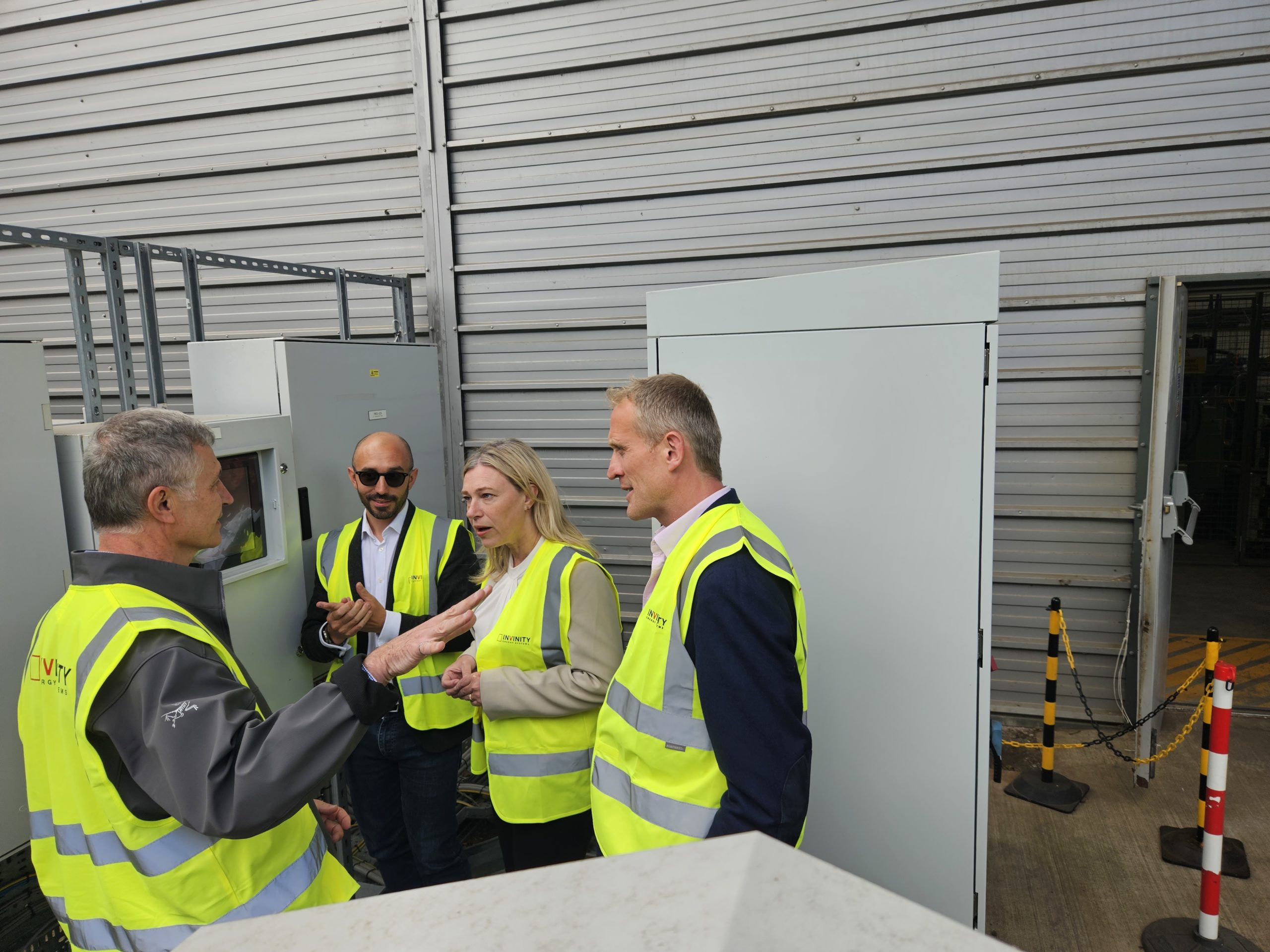 Above: Ms Martin being given a demonstration of an operating VS3 battery product during the factory visit.
The visit follows Scotland's First Minister, Humza Yousaf MSP's letter to the UK Prime Minister in which he called for an increase in the deployment of energy storage technologies, including batteries, in the UK amid high curtailment payouts to wind farms.
Ms Martin was given a guided tour of the facility, learned about the key battery projects in Scotland and across the world for which Invinity has supplied its vanadium flow battery (VFB) products, and took time to meet with Invinity staff, many of whom formerly worked in the oil & gas and other industrial sectors. The visit included an inspection of the Company's production line and a hands-on demonstration of Invinity's batteries in action – charging and discharging from the Scottish electricity network. This provided an opportunity for Ms Martin to learn about VFB's operating capabilities and how Invinity's flow battery technology can play a critical role in the journey to achieving Net Zero goals both in Scotland and across the globe, ensuring grid stability and bolstering the security of supply.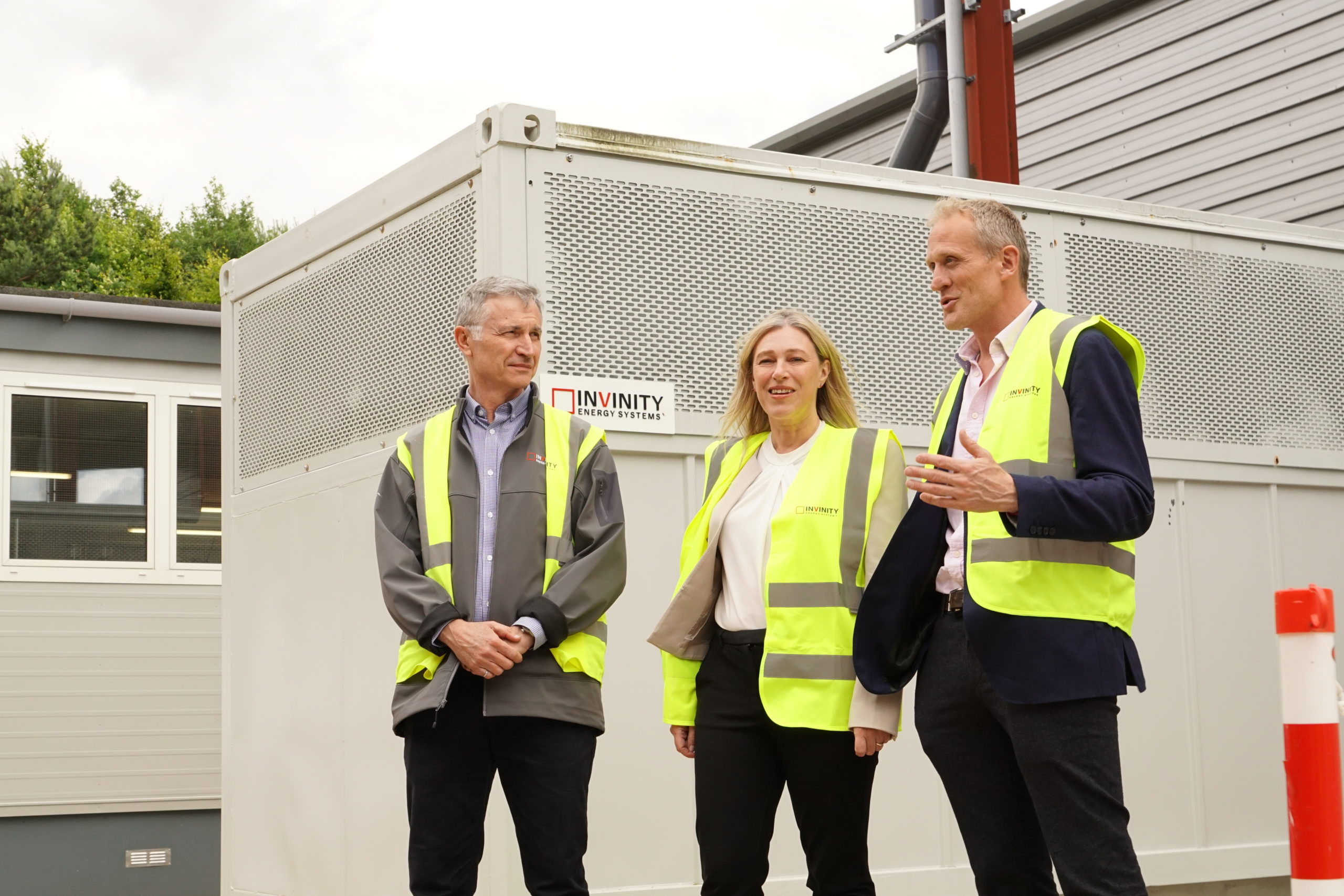 Above: (From left to right) Jean-Louis Cols (VP Solutions Engineering), Gillian Martin MSP and Jonathan Marren (Chief Development Officer) pictured in front of an operating Invinity VS3 battery
Invinity's Bathgate facility is fully compliant with multiple ISO and UL safety and operating standards and the factory is currently manufacturing battery systems for the fulfilment of orders to multiple customers across the UK and EU in 2023.
"The Scottish Government's draft Energy Strategy and Just Transition Plan sets out the pathway to Scotland becoming a global renewables powerhouse, with enormous opportunities for our energy sector, workforces and economy.

"As renewable capabilities grow during our net zero journey, we need an energy system that can store and utilise the increasing power it will generate. Grid-scale batteries will play an increasingly important part of the solution over the coming decades, which is why I was pleased to visit Invinity to find out more about how they and the wider sector are driving forward this technology in support of our energy transition in Scotland and beyond."
– Gillian Martin MSP, Minister for Energy and the Environment in Scotland
Separately, in further recognition of the Company's global manufacturing status, Invinity also recently hosted Thomas Codrington, the British Consul General in British Columbia, at the Company's newly expanded North American manufacturing facility in Vancouver, Canada.
"Invinity's vanadium flow batteries have a significant and growing role to play in the world's journey to net zero by unlocking the power of 24/7 renewable energy. We are delighted to have received this important recognition from Scotland's Energy Minister against a background of growing support for vanadium flow battery technology worldwide.

"As we scale production to meet ever-growing demand, we expect to expand our operational footprint in Scotland and beyond as our products increasingly become recognised as a leading solution to making the energy transition a reality."
– Jonathan Marren, Chief Development Officer, Invinity Energy Systems