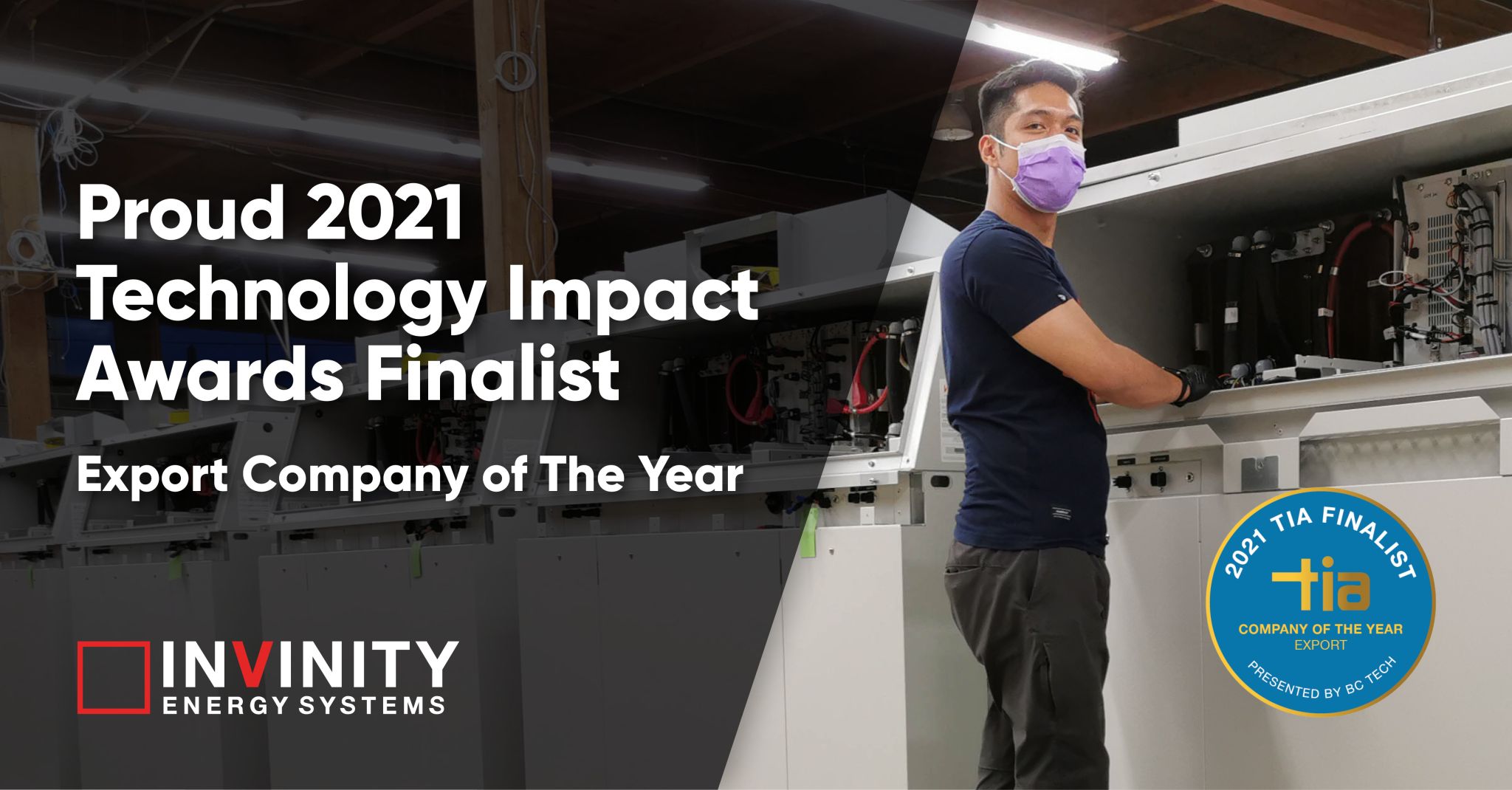 Invinity Energy Systems is pleased to announce our selection as a finalist in the 2021 Technology Impact Awards, presented by the BC Tech Association.
Invinity have been selected in the "Company of the Year – Export" category, which recognizes the leading companies succeeding on the world stage through the export of technology developed in British Colombia, Canada.
This recognition follows a transformational year for Invinity which celebrated our first year of trading in April 2021.
"Throughout the COVID-19 crisis the province's tech sector pulled together to support our communities, help small business to adopt technology, provide reskilling programs and put workers displaced by Covid into new jobs in the tech sector. BC Tech companies built the resilience of British Columbia this year and the stories are inspiring! With more applicants than ever before, the TIAs celebrates a community of bold optimists and innovators that is transforming BC's economy." 
Invinity's Vancouver facility is a key hub for the company's global operations and a focal point for the development and manufacturing of our modular vanadium flow batteries.
Safe, dependable, economical vanadium flow batteries are coupled with renewable generation such as solar and wind to create low-carbon, low-cost energy on demand for businesses, utilities and electricity networks across the world.
In this way, Invinity's energy storage systems are helping to accelerate our transition to renewable energy and reduce our global carbon emissions.
"The entrepreneurial spirit of the BC Tech community and its economic vibrancy combined with one of the most active tech IPO markets in recent times was inspiration enough for Canaccord Genuity to participate as Silver Sponsors. As an avid cheerleader for BC's growing tech companies, we are delighted to support the BC Tech Impact Awards and look forward to celebrating the success of all the nominees this year."
BC Tech is the largest member-led technology non-profit in British Columbia, and is dedicated to turning startups into scaleups. Their work accelerates growth by helping members expand and diversify their talent pools, acquire new customers, and access capital. Tech is a key industry for BC's future and builds resiliency in every sector.