Màiri McAllan MSP highlights the importance of energy storage and its role within a Just Transition to Net Zero
Friday 10 November 2023
Invinity Energy Systems, a leading global manufacturer of utility-grade energy storage, was delighted to welcome Màiri McAllan MSP, the Cabinet Secretary for Transport, Net Zero and Just Transition in Scotland, to the Company's manufacturing facility in Bathgate, West Lothian yesterday.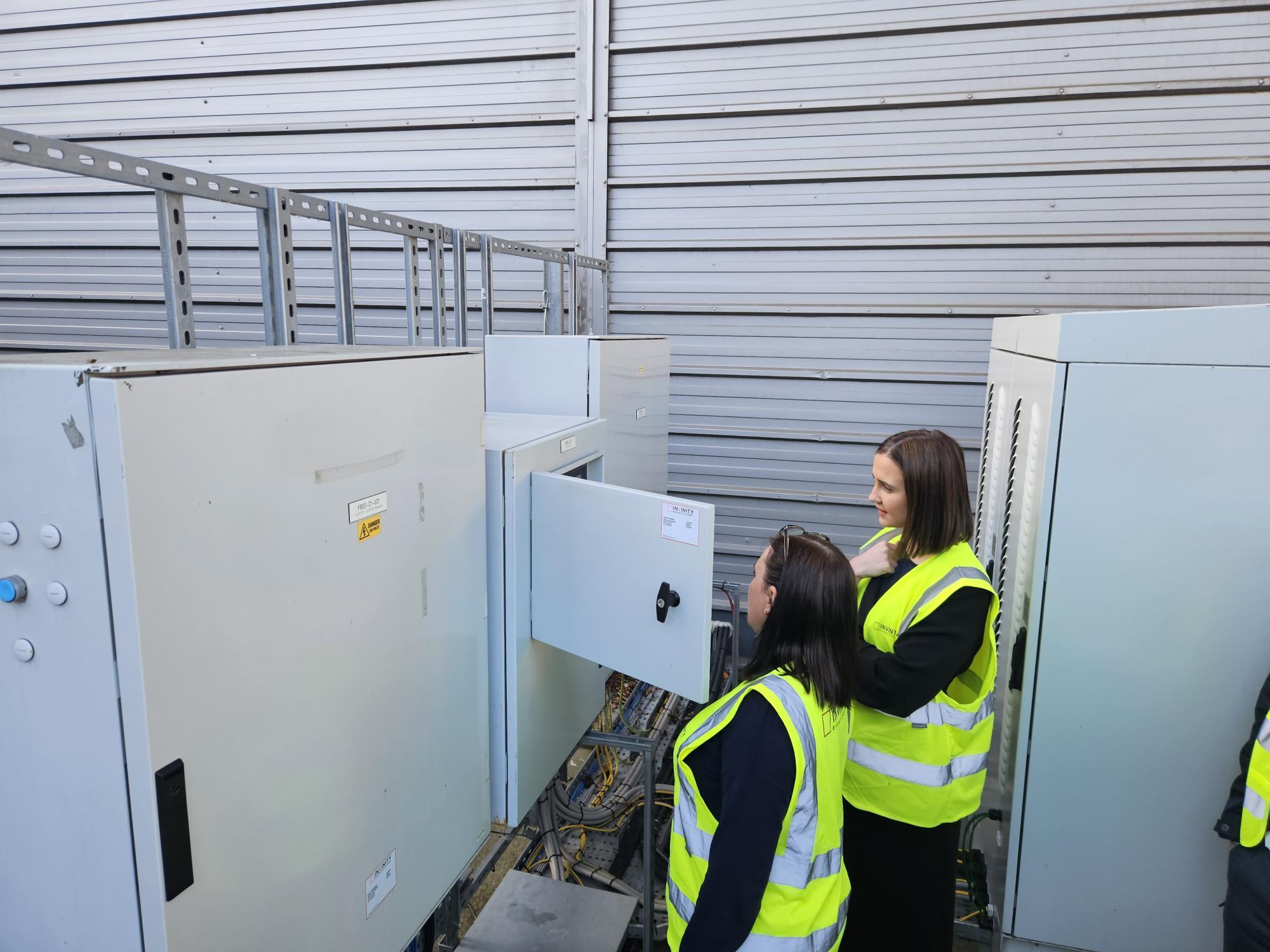 Above: Ms McAllan being given a demonstration of an operating VS3 battery product during her factory visit.
Ms McAllan was given a guided tour of the facility, where Invinity VFBs are fully assembled and tested to ISO and UL standards before being shipped to Invinity's customers around the world. Ms McAllan then participated in a hands-on demonstration of the capabilities of Invinity's batteries, charging an Invinity VS3-022 battery with low-carbon electricity from the Scottish electricity grid. Ms McAllan also took time to meet Invinity's staff and learn how Invinity's batteries enable 24/7 renewable energy from the sun and wind, by storing excess generation from these renewable but intermittent sources of power and then discharging that stored energy to fill in supply gaps when the sun isn't shining and the wind isn't blowing.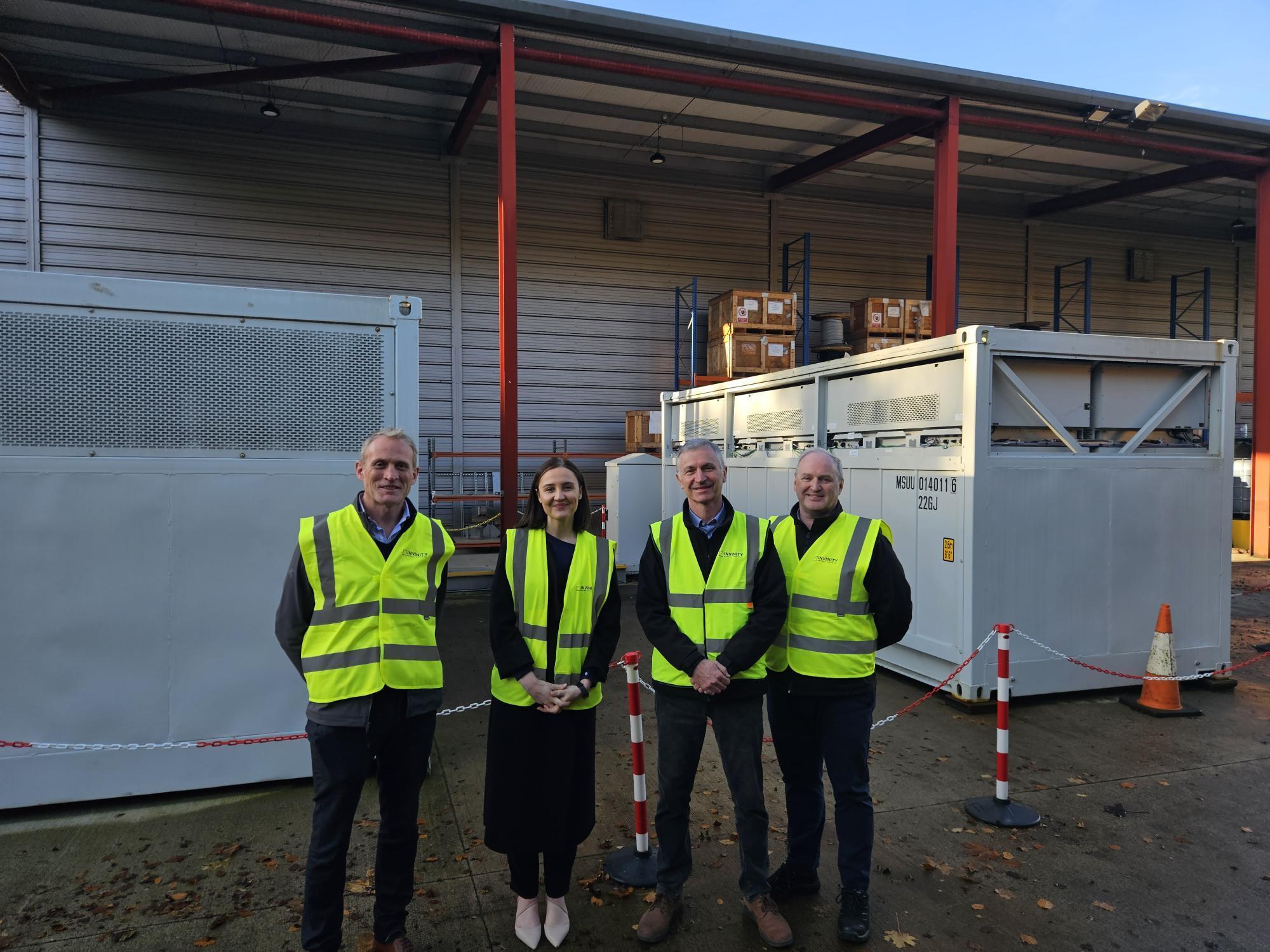 Above: (From left to right) Jonathan Marren (CFO and CDO), Màiri McAllan MSP, Jean-Louis Cols (VP Solutions Engineering) and Paul Docherty (VP of Manufacturing Operations) in front of two operating Invinity VS3 flow batteries
Ahead of the 2023 United Nations Climate Change Conference ("COP28") due to be held later this month, the suitability of Invinity's technology for key battery projects both in Scotland and globally was also discussed with Ms McAllen, who noted the role Invinity is currently playing in creating new green jobs in Scotland and the Company's commitment to the principles of a Just Transition.
"It was a pleasure to visit Invinity Energy System's Bathgate manufacturing facility to see their work first-hand. Their battery storage technology has an important role to play in accelerating the energy transition and, because the battery technology can be recycled after use, it will also help grow the circular economy.

"It is great to see a Scottish firm leading this innovation. This work will not only support a just transition by creating more green jobs in Scotland, but will help ensure we remain at the forefront of the energy transition and can become a leader in driving future clean power systems."
– Màiri McAllan MSP, Scotland's Net Zero Secretary
The Scottish Government's 2023 Draft Energy Strategy and Just Transition Plan recognised that "utility scale battery storage offers fast responding, dispatchable power when required", allowing for the acceleration of decarbonisation in the UK. The anticipated growth in renewable generation in Scotland to meet net zero targets is expected to lead to a significant rise in energy constraints for which energy storage, such as Invinity's Vanadium Flow Batteries, are an increasingly recognised solution.
"Delivering 24/7 renewable energy on demand is a fundamental requirement for achieving net zero both in the UK and globally. Invinity are proud to be playing a significant role in making this a reality through the growing deployment of longer duration energy storage technology like our vanadium flow batteries.

We are delighted to have hosted Ms. McAllen, Cabinet Secretary for Transport, Net Zero and Just Transition at our facility and are grateful to her for the opportunity to demonstrate our world-leading battery technology and showcase the skills of our world-class team."
– Jonathan Marren, Chief Financial Officer and Chief Development Officer, Invinity Energy Systems