More long duration energy storage capacity would support UK energy security and accelerate the decarbonisation of the economy, by enabling more renewables to come online and reducing the UK's dependence on imported fossil fuels.
Friday 18 March 2022
Business leaders have met with UK Energy Minister the Rt Hon Greg Hands MP to discuss how the government could unlock significant investment in vital energy storage technologies needed to decarbonise the power sector and help ensure greater energy independence.
The meeting was organised by the Long-Duration Electricity Storage Alliance, a new association of companies, progressing plans across a range of technologies to be first of their kind to be developed in the UK for decades.
Representatives from Drax, SSE Renewables, Highview Power and Invinity Energy Systems met with The Rt Hon Greg Hands MP, Minister of State for Business, Energy and Clean Growth yesterday.
He heard how decarbonising the UK's electricity system by 2035 will require a range of flexible home-grown, long-duration energy storage (LDES) technologies to strengthen the contribution of cheap but variable renewables and deliver enhanced system stability. A recent report by Aurora showed that the UK may need an eight-fold increase in long-duration electricity storage capacity by 2035.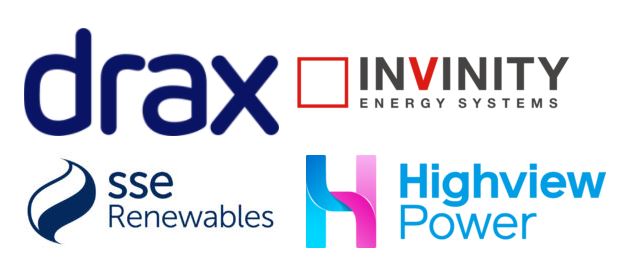 As such, LDES technologies will not only play a major role in significantly reducing the UK's reliance on imported gas, and supporting the UK government's ambitions to supercharge renewables, but they will also deliver massive efficiency gains to the UK grid – helping to lower consumer energy bills.  
The Long-Duration Electricity Storage Alliance intends to work with the UK Government to unlock potential developments in new pumped storage hydro capacity and to accelerate the commercial deployment of exciting emerging technologies such as liquid air energy storage and flow batteries, to put the UK in the vanguard of LDES innovation.
"The Long-Duration Electricity Storage Alliance is a key part of our plan to get the full benefit from our world-class renewables sector. Government have already committed £68 million of funding toward the development of these technologies.               

"This will support the UK as we shift towards domestically-produced renewable energy that will boost our energy security and create jobs and investment."
– UK Energy Minister, Rt Hon Greg Hands MP
"Enough renewable electricity from wind to supply around a million UK homes is wasted each year, because there isn't enough storage available to harness that power and ensure it is available when we need it. We cannot afford to allow that to continue, especially with current concerns around energy security.

"Drax has plans to invest £500m developing 600 MW of additional pumped storage hydro capacity at our Cruachan power station in the West of Scotland – a project which, with the right policies from government, will not only contribute to UK energy security, but also deliver around 1,000 jobs in rural areas during construction."
– Will Gardiner, Chief Executive Officer, Drax Group
"In response to the current situation in the energy markets, the UK needs to not only supercharge cheap renewables but also home-grown long-duration storage technologies to cost-effectively decarbonise the grid and reduce our dependence on imported gas.

"The swift introduction of an adapted Cap & Floor mechanism by government this year could unlock billions of pounds of investment in these vital technologies and create thousands of skilled jobs. As the UK's clean energy champion, with our consented and shovel-ready 1,500MW Coire Glas pumped storage project in the Scottish Highlands, we stand ready to play our part."
– Finlay McCutcheon, Director of Onshore Europe, SSE Renewables
"Highview Power's liquid air energy storage technology is ready for commercial deployment and we believe that it can make a substantial contribution to the UK's net zero ambitions for the UK grid. As we move into the delivery phase for our matured technology, we recognise that the UK leads the world in innovation in the UK grid and has already made extraordinary strides in admitting renewables to its system.

"We are very grateful for the UK Government's strong interest in LDES and their willingness to engage with UK industry, to accelerate and embed key LDES capabilities in the UK economy, and to create UK leaders in a fast-emerging global LDES marketplace."
– Rupert Pearce, Chief Executive Officer, Highview Power
"Wind and solar power will clearly play an increasing role in the UK's long-term energy security, reducing reliance on imported gas and supporting climate goals. Renewable energy requires energy storage to fill in the missing hours and make zero-carbon electricity available when it is needed, not just when the wind is blowing or the sun is shining. The more dependent the UK is on renewables, the more urgent it is that long-duration energy storage, such as that provided by Invinity's vanadium flow batteries, be made available.

"We couldn't be more pleased to see the UK take a leadership role in the deployment of long duration energy storage projects and welcome further Government policy and investment support to facilitate the rapid adoption of critical energy storage technology."
– Larry Zulch, Chief Executive Officer, Invinity Energy Systems