MP visits factory at climax of COP26 Climate Conference
COP26 recognises that more needs to be done to support the deployment of low emission technologies
12 November: On the last day of COP26, Invinity welcomed Martyn Day MP (Linlithgow and East Falkirk constituency) to our Bathgate factory where he was given a tour of the facility and shown the critical technology we produce for our clients as part of the long duration energy storage market and which is also a vital part of the Net Zero energy transition.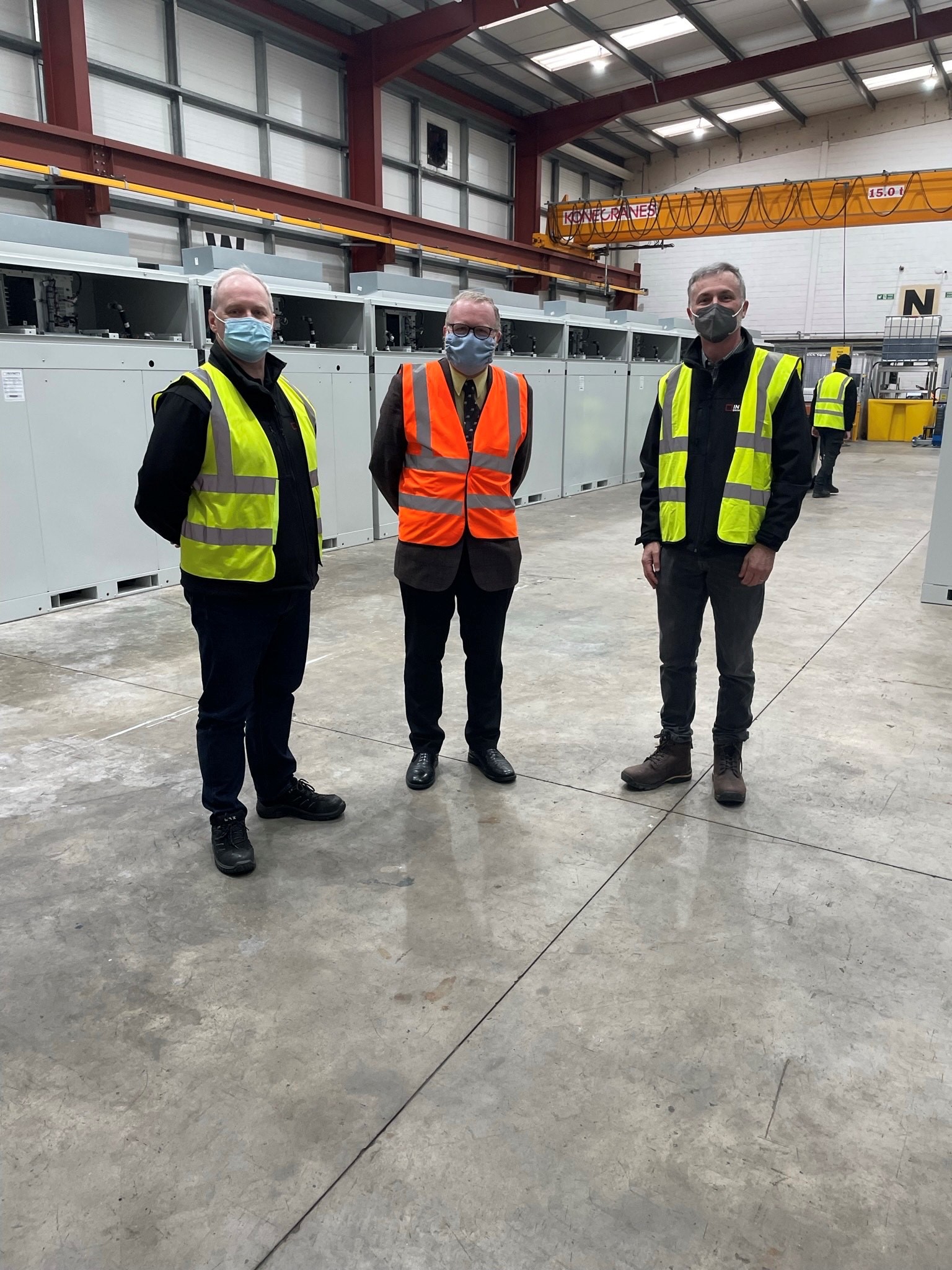 Image: Martyn Day, MP (centre) with Paul Docherty, VP Manufacturing Operations (left) and Jean-Louis Cols, VP Solutions Engineering (right)
Mr Day MP was shown the newly expanded facility including battery assembly, stack production line and electrochemical laboratory. He also met with Jean-Louis Cols, VP Solutions Engineering and Paul Docherty, VP Manufacturing Operations, who highlighted how the company has benefitted from a high-quality pool of labour present in the region, most of whom were former oil and gas sector workers and who are now applying their skills to develop our clean energy technology.
Gallery: Invinity's vanadium flow battery factory in Bathgate, West Lothian, Scotland. 
"I was delighted to visit Invinity's flow battery manufacturing facility and was extremely impressed by both their innovative renewables technology… and their commitment to reducing carbon emissions. 

They have expanded significantly including 25 new green jobs in Bathgate."
– Martyn Day, Member of Parliament
As COP26 has now finished, Invinity has noted two items of encouraging wording in the final decision of the parties. The first item is in section VI (Mitigation), point 20 in which the President of COP26, Alok Sharma MP, "Calls upon Parties to accelerate the development, deployment and dissemination of technologies, and the adoption of policies, to transition towards low-emission energy systems, including by rapidly scaling up the deployment of clean power generation and energy efficiency measures, including accelerating efforts towards the phasedown of unabated coal power and phase-out of inefficient fossil fuel subsidies". The second item is in section VIII (Collaboration), point 53, where the President "Recognises the importance of international collaboration on innovative climate action, including technological advancement….in contributing to progress towards…. the goals of the Paris Agreement".
Whilst the President of COP26 has verbally acknowledged that there remains a monumental challenge ahead following the end of the conference, Invinity welcomes this recognition from COP26 that more needs to be done to support the deployment of low emission technologies, either through greater commitments by companies and/or government policies. The faster this is achieved will ensure a quicker transition to a net zero world.