European Marine Energy Centre (EMEC) takes delivery of 48 Invinity VS3 modules for innovative tidal + flow battery project at site on Eday, Orkney.
Friday 22 April 2022
The modules, assembled at Invinity's Bathgate facility in West Lothian, have a combined capacity of 1.8 MWh. They were shipped by road and ferry and are currently in the process of final installation and commissioning.
This innovative project will see Invinity's flow batteries combined with tidal generation to power EMEC's hydrogen production plant. Tidal generation is predictable yet variable, with two high and two low tides occurring each day. The battery will 'smooth' the power from the tidal generation by storing during high power and releasing during low power periods to ensure the 670 kW hydrogen electrolysers have a stable and continuous power load to optimise production.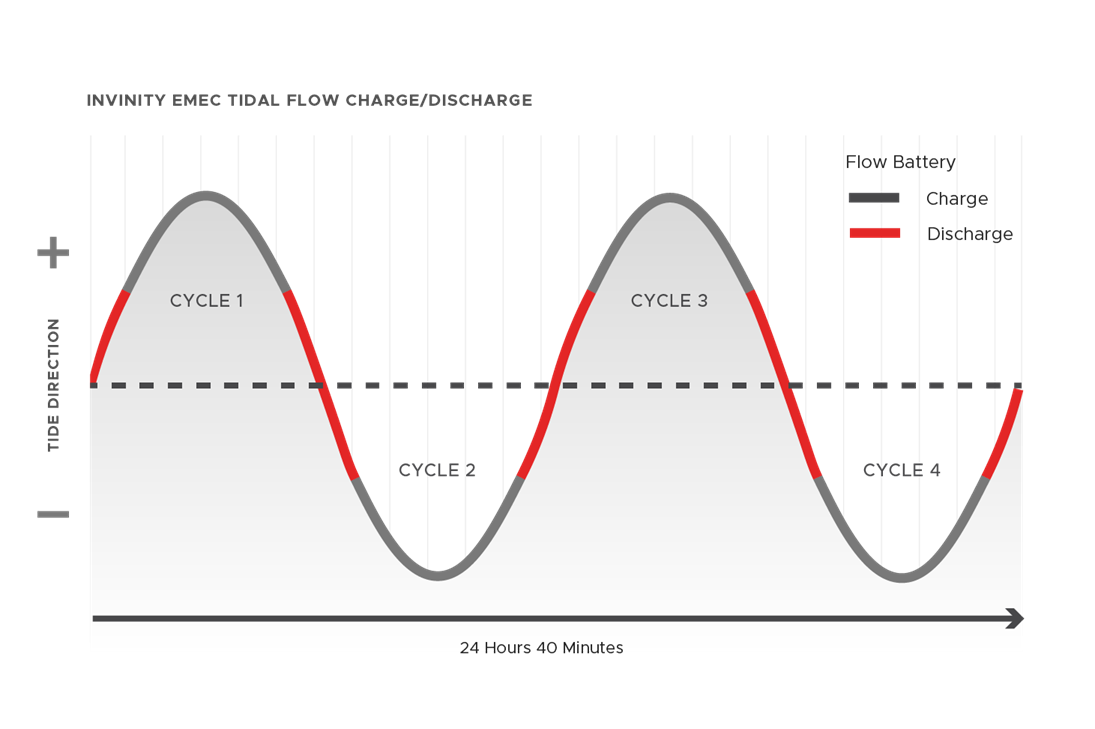 Above: Chart outlining the EMEC tidal flow charge/discharge cycles over a 24 hour period
This is an extremely high-throughput application, requiring up to four cycles per day. Since Invinity's flow batteries can be cycled indefinitely with no degradation, this means the operation can run non-stop 24 hours a day, 7 days a week to unlock large quantities of green energy, on demand. Invinity's flow batteries are ideally suited to this project which will demonstrate continuous hydrogen production from variable renewable generation.
The commercialisation of green hydrogen is an essential step toward a 100% renewable future. Green hydrogen is created by electrolysis using renewable power and does not create CO2 as a by-product. It can replace fossil fuels in the energy mix, supporting the decarbonisation of both the heavy industry and transport sectors. Furthermore, the Offshore Wind Industry Council and the Offshore Renewable Energy (ORE) Catapult estimated in 2020 that developing a green hydrogen industry could generate £320bn for the UK economy and sustain 120,000 jobs by 2050.