Receives visit from Michael Matheson MSP, Scottish Cabinet Secretary for Net Zero, Energy and Transport
Thursday 18 August 2022
Invinity Energy Systems is pleased to announce that it has successfully delivered, installed and energised a 1.8 MWh VS3 flow battery system at the European Marine Energy Centre (EMEC) hydrogen R&D facility on the island of Eday in the Orkney Islands, UK.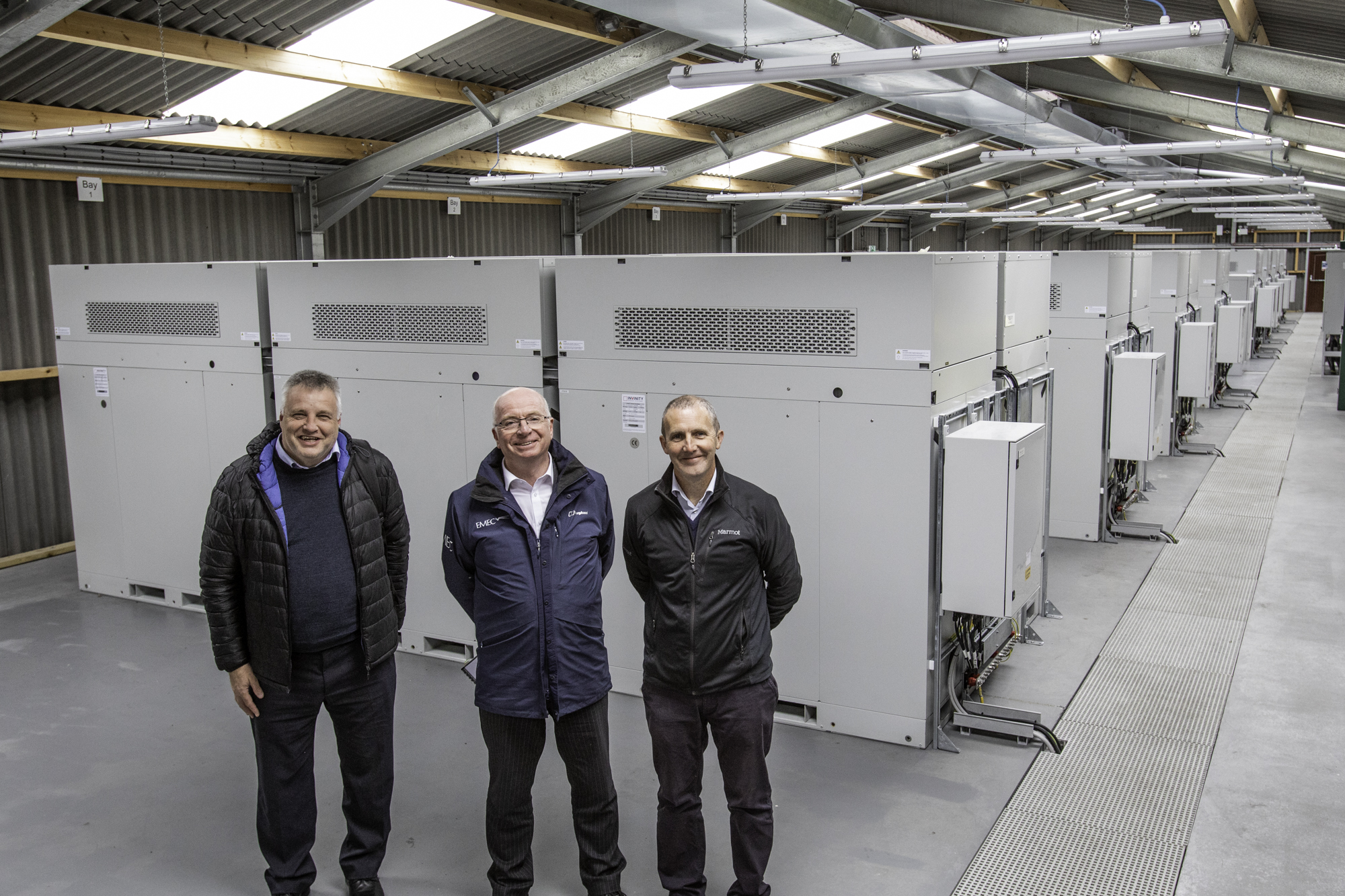 Above: Graeme Harrison, HIE, Neil Kermode, EMEC and Michael Matheson MSP in front of 48 Invinity VS3 modules on site.             Photo: Colin Keldie
Comprising 48 Invinity VS3 battery modules, with a combined capacity equivalent to the daily energy consumption of over 210 UK households, this innovative project will see Invinity's flow batteries integrated with tidal generation to optimise green hydrogen production at EMEC's hydrogen production plant. Tidal generation is predictable yet variable, with two high and two low tides occurring each day. Once the integrated system has been fully commissioned, the battery will 'smooth' the power from the tidal generation by storing during high power periods and releasing during low power periods to ensure EMEC's 670 kW hydrogen electrolyser has a stable, renewable power supply, allowing the continuous production of green hydrogen.
"We're delighted to have Invinity's innovative battery technology installed on our site on Eday. It will integrate power generated by our clients' tidal turbines and help optimise hydrogen production. Energy storage solutions like vanadium flow batteries are crucial to creating resilient, clean energy systems of the future and we look forward to seeing the integrated system fully demonstrated later this year.

Many thanks to both Invinity and EMEC teams for their hard work in getting the project to this stage. Undertaking this on a remote Scottish Island is one thing, but doing it safely during a pandemic is another level entirely."
– Neil Kermode, Managing Director, EMEC
Manufactured at Invinity's facility in Bathgate, West Lothian, the energy storage system was delivered in stages via road and ferry to the island located off the north coast of Scotland. The project is currently in its final commissioning phase with integration of the tidal turbine and electrolyser expected to complete shortly. Full demonstration of the integrated system is due to take place this autumn.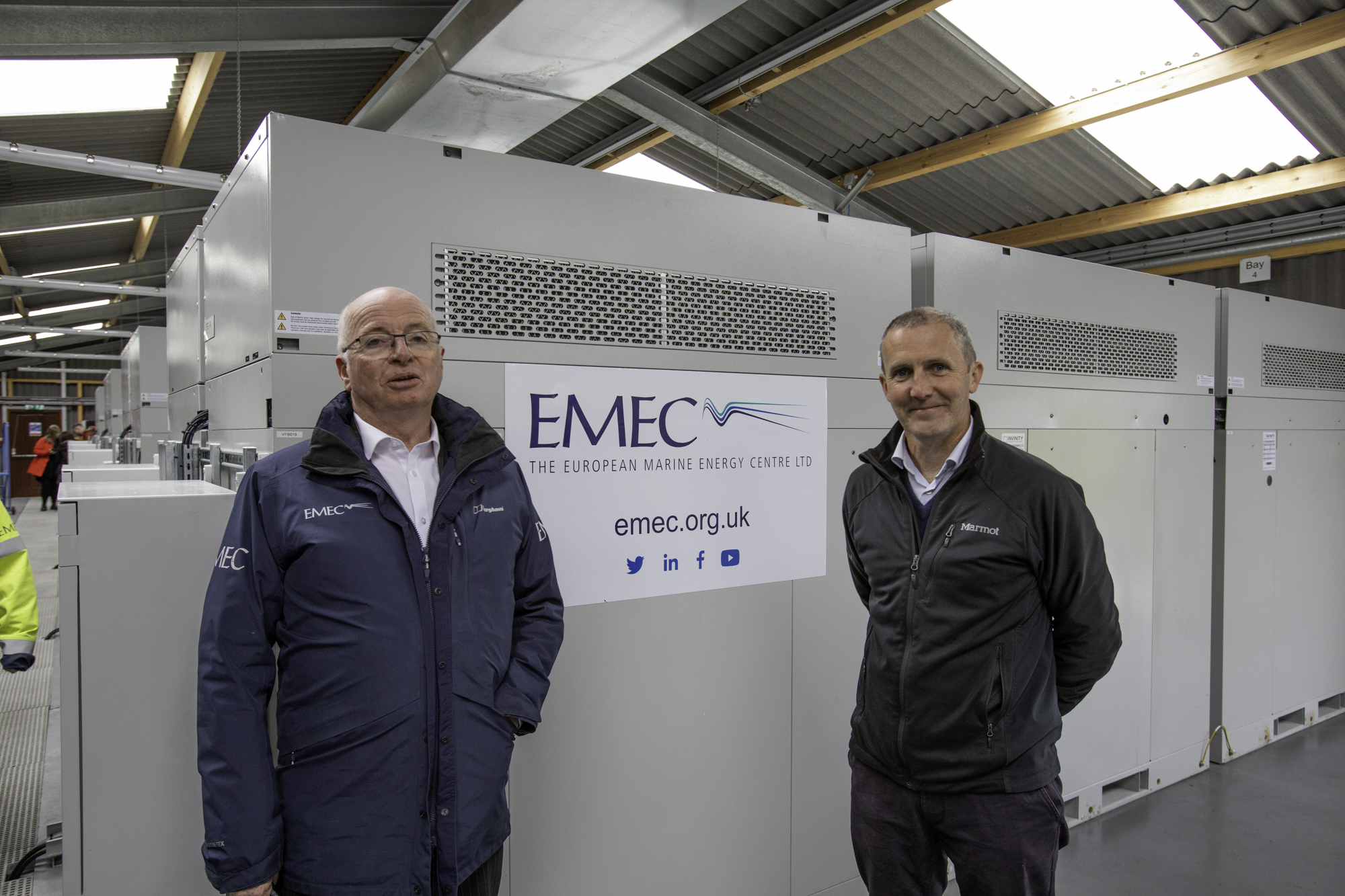 Above: Neil Kermode, EMEC and Michael Matheson, MSP at the Invinity VS3 Battery array.     Photo: Colin Keldie
Scottish Cabinet Secretary for Net Zero, Michael Matheson MSP, visited the battery site yesterday as part of a wider tour of the EMEC facility. Earlier this year, Mr. Matheson also visited Invinity's Bathgate facility where he was given a guided tour and inspected the batteries that are now installed at EMEC. 
"This first of a kind project at EMEC illustrates the important role that Invinity's vanadium flow batteries can play in the net zero energy system of the future. Now that our batteries are installed and energised, we look forward to fully demonstrating their capabilities once the integrated green hydrogen project goes live later this year. We are grateful to be working with the forward-looking team at EMEC as they work toward a net-zero future."
– Larry Zulch, Chief Executive Officer, Invinity Energy Systems