European Marine Energy Centre (EMEC), Orkney
Invinity has delivered, installed and energised a 1.8 MWh flow battery system at EMEC's hydrogen R&D facility on the island of Eday in the Orkney Isles, UK.
Find out more in the case study below.
Vanadium flow batteries combine with tidal power in exciting world-first to produce 'green hydrogen'
The commercialisation of green hydrogen production is another essential step towards a 100% renewable future. Green hydrogen is created and consumed without carbon emissions and could replace fossil fuels in the energy mix, supporting the decarbonisation of both heavy industry and transport sectors.
EMEC's wave and tidal energy facility is designed to demonstrate the benefits of these technologies in new and inspired ways that help to decarbonise energy systems. This particular project combines the use of variable tidal generation with an electrolyser to facilitate the production of green hydrogen. During development, the EMEC team conducted a technical review that looked at how they could improve the efficiencies of the electrolyser and ensure continuous production of green hydrogen. The review confirmed that an energy storage system was needed to ensure there would be a continuous power supply and this system needed to cope with the high-cycling requirements of the predictable but variable tidal generation.
With support from the Scottish Government via Highlands and Islands Enterprise, EMEC chose Invinity's modular vanadium flow battery to sit at the heart of the entire system in between the tidal generator and the electrolyser. Due to its lack of degradation and high-cycling capabilities, this battery enables the maximum onsite use of the tidal generator to provide continuous, 24/7 power that is "smoothed" for the electrolyser.
The battery was delivered in stages via road and ferry to the island located off the north coast of Scotland. Housed inside a simple building, the battery was swiftly installed and energised inside a simple shed, without the need for HVAC or other fire suppression systems, given the lack of fire risk associated with Invinity's VFBs.
The big picture – Benefits of high-throughput flow batteries for green hydrogen production
Tidal generation is predictable yet variable, with two high and two low tides occurring each day. This is an extremely heavy cycling application, requiring up to four cycles per day, compared to solar-coupled energy storage projects which typically require just one charge and discharge each day. It is worth noting that conventional lithium-ion batteries would degrade and wear out far more quickly.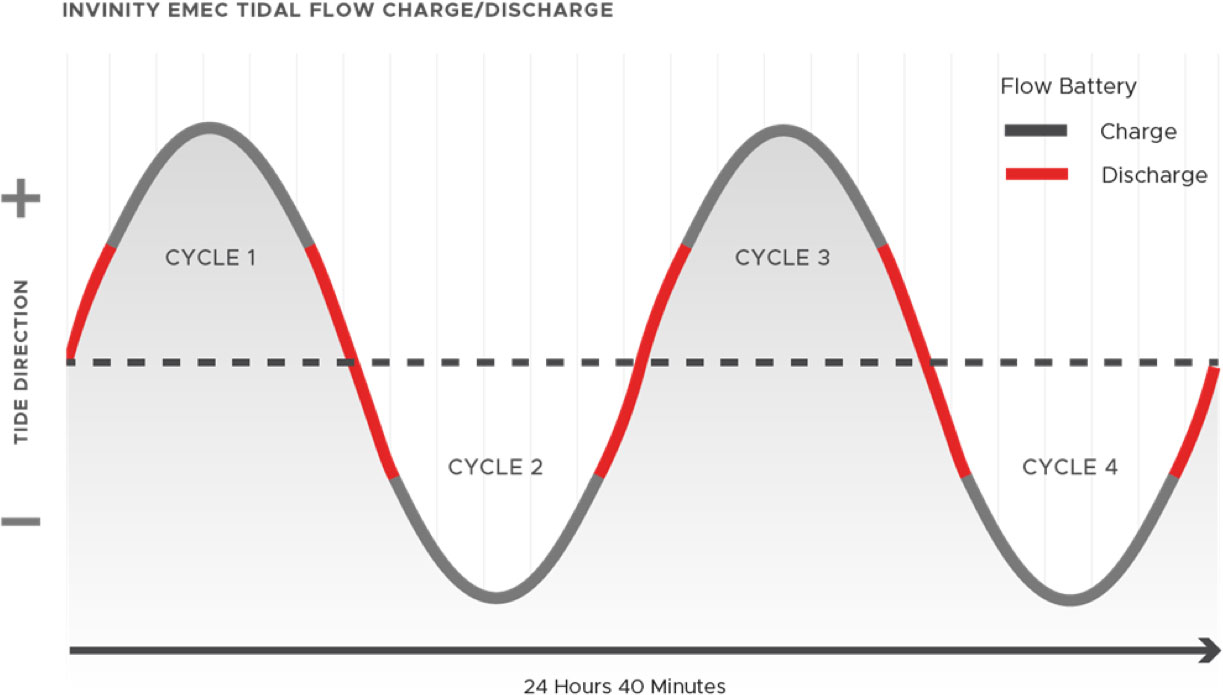 Interested in Finding Out More?
If you're a utility, developer, EPC, or financier please contact our commercial team to discuss the details of your project. We work with you to develop a robust business case and financial model.