Successful test and validation concluded by Hyosung Heavy Industries, MoU signed
Friday 8 April 2022
Invinity Energy Systems is pleased to announce the conclusion of a successful test and validation program by Hyosung Heavy Industries ("Hyosung"), the Power & Industrial Systems Group of Hyosung Corporation, one of Korea's largest industrial conglomerates, and subsequent signing of a non-binding Memorandum of Understanding ("MoU") for a global partnership with an exclusive relationship in Korea.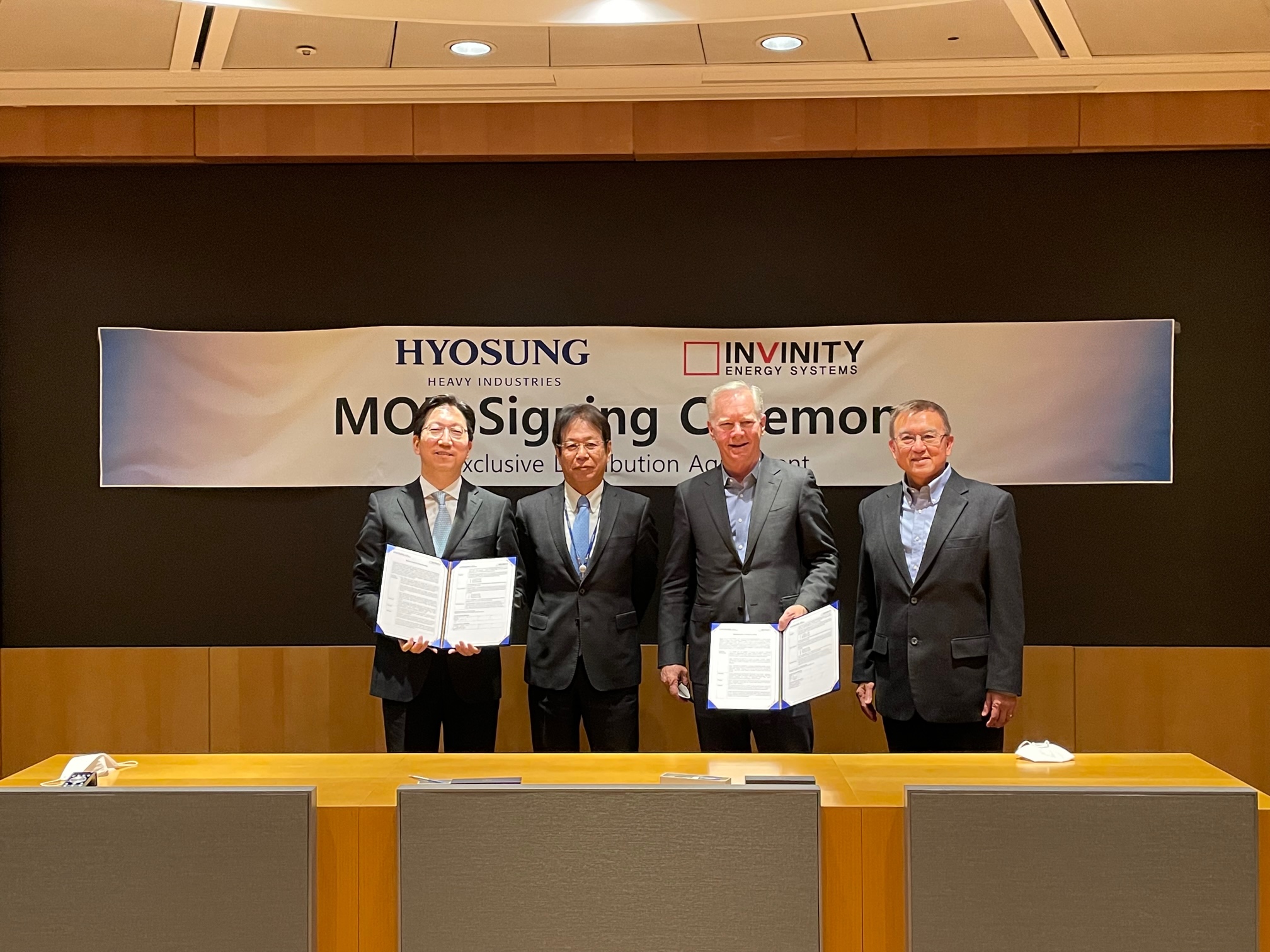 Above: The signing of the MoU between Hyosung, represented by Takeshi Yokota, President and CEO and Sung Hoon Ahn, Executive President and Invinity, represented by Larry Zulch, CEO, and Johnson Chiang, Executive Chairman, Asia 
Hyosung Heavy Industries is one of Korea's foremost suppliers of heavy electrical equipment and one of the region's largest energy storage and renewable energy project developers with approximately 2 GWh of operational projects globally. Hyosung today announced that it has comprehensively tested a 200 kWh Invinity energy storage system which was purchased in 2020, the sale of which was disclosed within Invinity's 15 June 2020 Trading Update. The Invinity energy storage system, which has been operational since late 2020, has now been validated as suitable for addition to Hyosung's growing portfolio of projects across the world.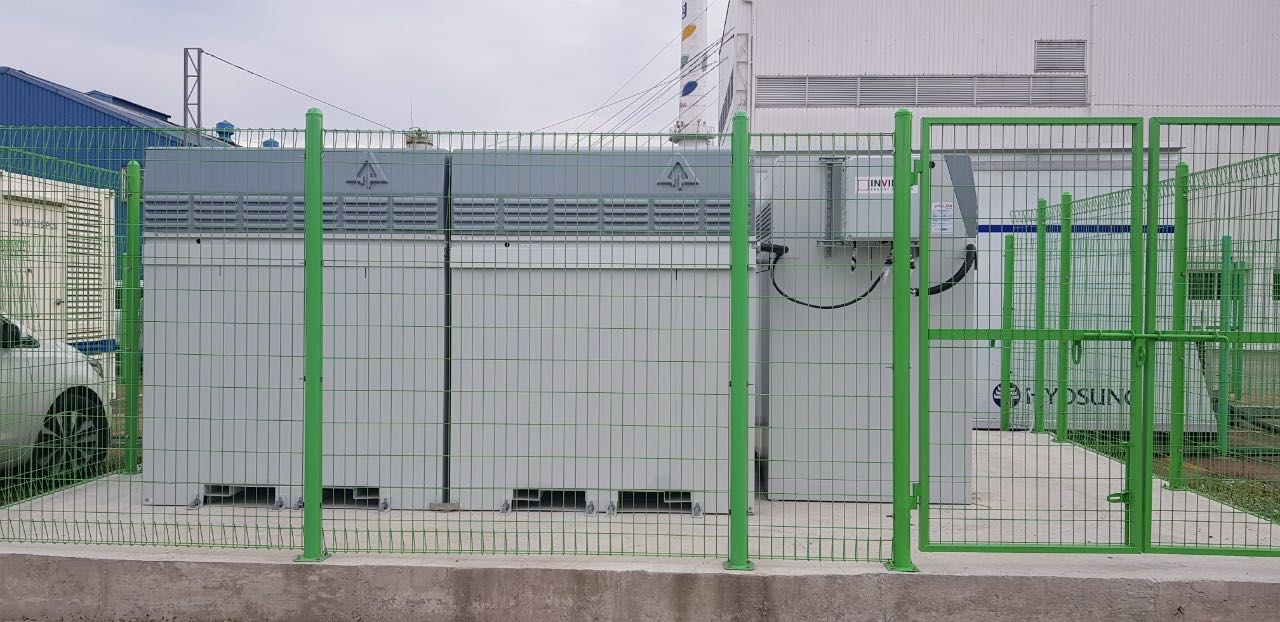 Above: Invinity battery modules tested by Hyosung on site in Korea
In a signing ceremony in Seoul attended by Hyosung's president and CEO, Takeshi Yokota, Sung Hoon Ahn, Hyosung's Executive President, Power Systems Performance Unit, and Larry Zulch, Invinity's CEO, signed a MoU expressing the companies' intent to establish Hyosung as the exclusive representative for Invinity's VS3 products in Korea, with further non-exclusive rights to sell Invinity's products in Hyosung's other markets around the world. The MoU specifically targets large-scale public procurement tenders and anticipates the possibility of Hyosung manufacturing elements of Invinity's VS3 products.
"The growing importance of energy storage will require a variety of technologies to address customer requirements. We have been impressed with the capabilities and operation of Invinity's vanadium flow batteries during our testing program. On the basis of this successful trial, we are pleased to have signed an MoU with Invinity which formalises our close cooperation to achieve further deployment of Invinity's vanadium flow batteries in Korea and globally."
– Takeshi Yokota, President and CEO at Hyosung 
Korea, an attractive market for energy storage due to its high per capita energy use, constrained grid infrastructure and significant government support for both renewable and energy storage projects, has seen a number of lithium-ion battery fires in existing energy storage sites in the country. The resulting increased scrutiny on safety, combined with a growing interest in extending energy storage system lifetimes, has created important opportunities for non-flammable and durable technologies such as vanadium flow batteries.
Hyosung and Invinity will now develop and expect to execute a definitive agreement consistent with the understanding embodied in the MoU while continuing to vigorously pursue a number of commercial opportunities.
"Hyosung's deep global expertise in large-scale electrical infrastructure complements Invinity's focus on providing the best alternative to lithium batteries for stationary energy storage. We are thrilled to be developing a close relationship with Hyosung that has the potential to span supply, support, and even manufacturing in South Korea and other markets around the world. This new relationship supports our corporate strategy of building exclusive relationships with strong partners in important markets where we do not currently have a presence."
– Larry Zulch, Chief Executive Officer, Invinity Energy Systems