The Chappice Lake Solar & Storage system is now powering the Alberta Grid.
Friday 22 September 2023
Invinity Energy Systems is pleased to announce that the Company's Canadian partner Elemental Energy has officially commenced operation of its 8.4 MWh Invinity VS3 vanadium flow battery ("VFB") at their Chappice Lake Solar & Storage Project site in Alberta, Canada (see picture below). This is Invinity's largest operational battery to date, and the largest vanadium flow battery serving the North American grid.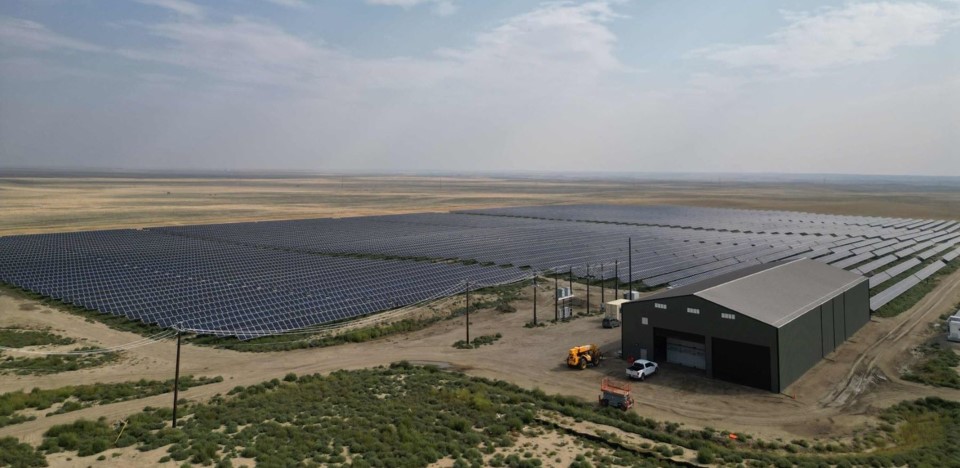 "This project, through its innovative pairing of a 21 MWp solar farm with Invinity's 8.4 MWh vanadium flow battery, will bring tremendous value to Elemental Energy and our partner, Cold Lake First Nations, as well as to the Alberta electricity grid by enabling us to deliver power when it is needed the most." 
– Jamie Houssian, Principal, Elemental Energy
Located in one of the sunniest places in Canada and in a province historically known as one of North America's major centres for oil production, the project features a 21 MWp solar array coupled with an 8.4 MWh VFB. A Canadian first in terms of size and application, this project will now generate enough dispatchable, low-cost, low-carbon electricity to serve the needs of over 7,000 Alberta residents with clean, on-demand solar power and is targeting carbon savings of approximately 20,000 tCO2e per year.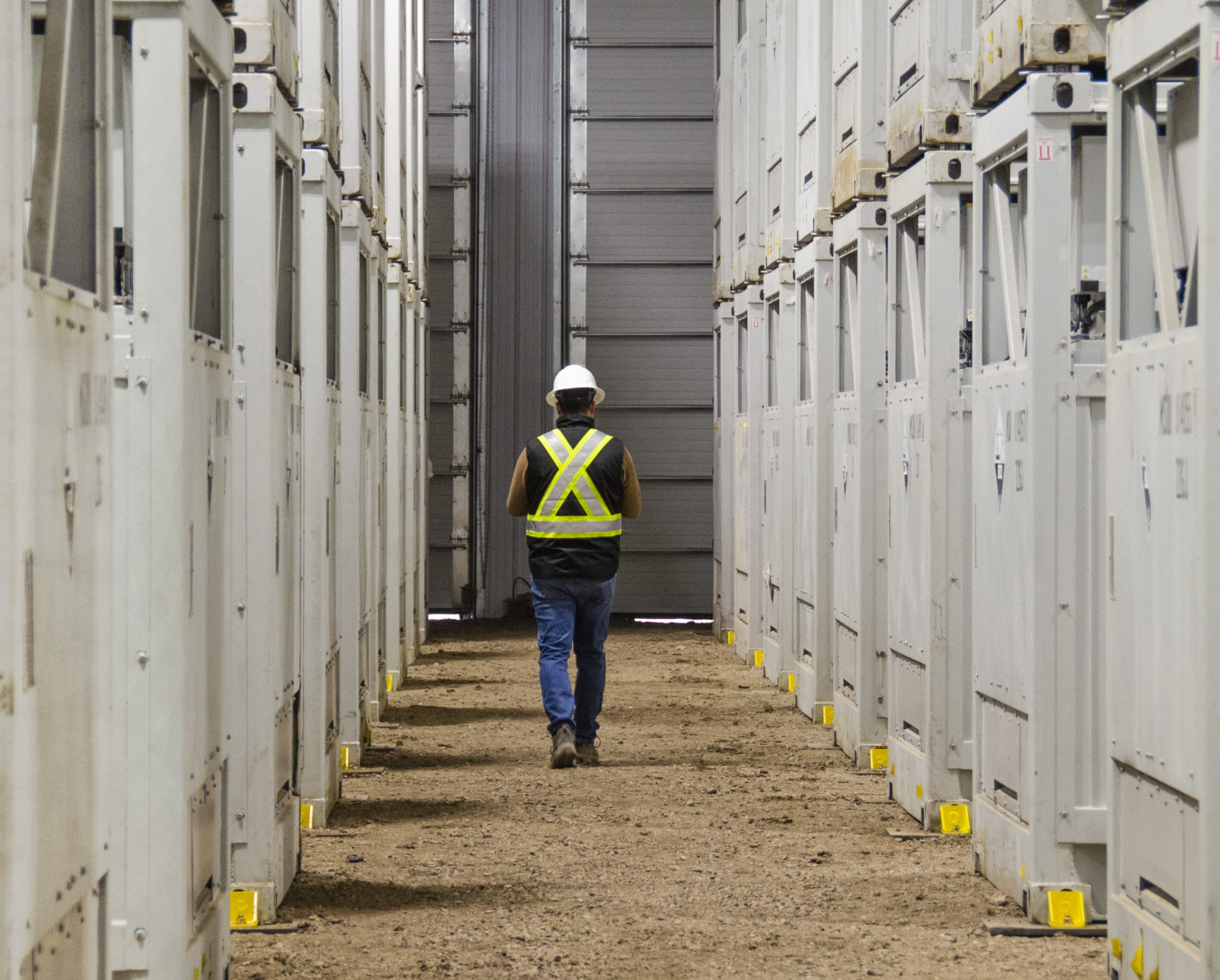 Above: Inside the 8.4 MWh Invinity VS3 vanadium flow battery system at Chappice Lake, Alberta, Canada
At the ribbon-cutting event held yesterday at the site near Medicine Hat, Alberta, representatives from Elemental Energy and Invinity joined a broad range of project partners and stakeholders to celebrate this exciting phase of the project. These included representatives from project funder Emissions Reduction Alberta, ownership partner Cold Lake First Nations, and representatives from many of the engineering, technical and construction service providers who contributed to the project.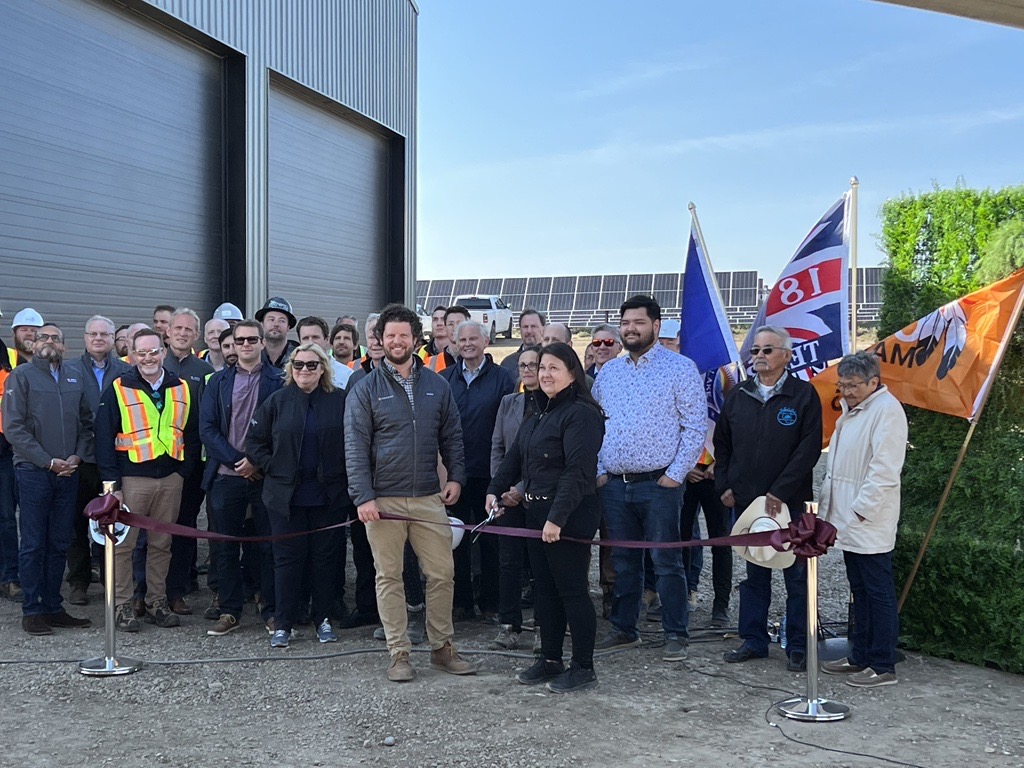 Above: Jamie Houssian, Principal, Elemental Energy and Heather Bishop, Director of Economic Development, Cold Lake First Nations with representatives from Invinity and invited guests at the ribbon-cutting ceremony of the Chappice Lake Solar & Storage project
Invinity's Vancouver-based partner on the project Elemental Energy is a leading private renewable energy development company with over 100 MW of wind, solar and hydro projects in construction or operation throughout North America and has a further 1GW of projects under development.
"This is a proud moment for Invinity. Not only is our largest project to date now in revenue service, but we have proven the capabilities of a great partnership alongside Elemental Energy and Cold Lake First Nations. This achievement is further proof that Invinity's products can apply their ability to cycle almost indefinitely over long durations to significantly increase economic returns for renewable generation projects worldwide. We look forward to working with Elemental to continue to optimize how this project can serve Alberta's grid, and to using the Chappice Lake project to increase awareness of the critical role Invinity's vanadium flow batteries will play in the world's transition to 24/7 renewable energy."
– Matt Harper, Chief Commercial Officer, Invinity Energy Systems